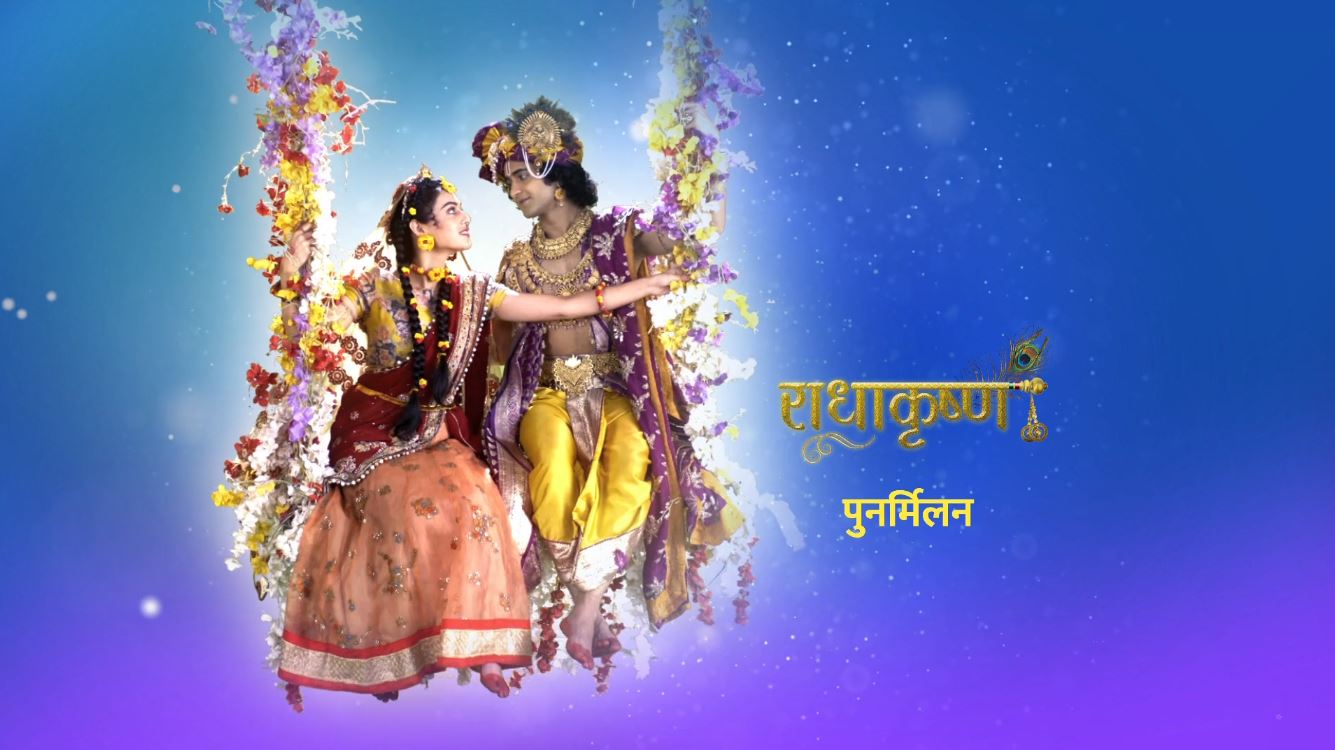 RadhaKrishn 27th July 2021 Written Episode, Written Update on TellyUpdates.com
Mahadev tells Krishna that he send Gauri to him to find a solution, but he created more bustle. Krishna says the real bustle will start now. Ganpret and Nandi complain Mahadev that they saw a bustle while they were busy in shravan maas celebration arrangements. They hear someone calling them and walk out. Bal Ganesh throws ice balls on them. They rejoice seeing him. Bal Ganesh continues throwing ice balls on them. Devi Gauri enters and asks who is troubling Bal Ganesh. Nandi says how did Bal Ganesh return. Bal Ganesh says he had never gone. Devi Gauri asks them to prepare a fast for Bal Ganesh. Nandi asks how can they as they need to make shravan festival arrangements. She says she doesn't want to hear anything and walk away. Nandi laughs and says there will more bustle during this festival. Krishna thinks there would definitely be. Gauri asks Bal Ganesh to stay at one place and goes to make arrangements for his food.
Ganesh enters Mahadev's meditation room and picks his trishul. Mahadev asks him to keep it back as its dangerous. Ganesh says mother told everything here belongs to him. Mahadev says his mother is right, but he sholdn't touch the things whose energy he is unaware of. Ganesh gets adamant and says he knows its energy and will use them. Nandi noticing that fear Mahadev's anger and brings Gauri along. Gauri requests Ganesh to return trishul if he needs the feast. Ganesh asks to prepare 1 extra type of modak and returns trishul. Mahadev tells Gauri that her son is mischievous, remembering Krishna's warning. Gauri says her son is innocent and mischief is his right. Mahadev thinks Krishna trapped him in his plan, visits Krishna, and asks if he is enjoying trapping him in his plan and putting him in dilemma. Krishna says sister Parvati is responsible for it and she will get angry if she hears him calling Ganesh as dilemma; invites him for the feast. Mahadev says he was busy till now and is tensed now. Krishna suggests him not to organize Shravan maas festival and he will not rest for a night. Mahadev says he will not and will perform his duty. Krishna says as he wishes. Mahadev thinks he will trap Krishna in his own plan. Krishna thinks he knows a solution to Mahadev's plan.
Gauri prepares modak while Ganesh walks in. Gauri says she is going to meet a special person during feast. Krishna insists to accompany her. She says he will during fast and leaves. Ganesh thinks who this special guest is. Gauri visits Krishna and thanks him for letting her rest peacefully. He says she cannot rest even now with Ganesh's presence. She invites him for special feast. Krishna smiles. Ganpret and Nandi get busy preparing feast of Ganesh. Mahadev calls them and thinks if they are busy helping Gauri and Ganesh, who will help him. Indradev and other gods visit Ganesh. Gauri introduces them to all. Ganesh asks if Indra doesn't have any weapon. Indradev says he has a powerful vajra. Ganesh requests to show it to him. Indra shows vajra. Ganesh asks to let him check. Indradev says its not a kid's toy. Ganesh snatches it from him. Gauri asks him not to disrespect elders and asks to return it. Ganesh asks Indradev if vajra is more powerful than trishul. Indradev says nothing is powerful than trishul. Ganesh returns vajra and asks chandradev is his weapon is more powerful than trishul. Chanadradev says no. Ganesh asks if any god doesn't have a weapon which is more powerful than trishul.
Precap: Mahadev informs Ganesh that his Krishna mamaji/uncle is Narayan and has most powerful weapon sudarshan chakra. Ganesh thinks of
visiting Dwarka and playing with sudarshan chakra. Krishna asks Mahadev why did he put him in a dilemma.
Update Credit to: MA
The post RadhaKrishn 27th July 2021 Written Episode Update: Bal Ganesh's Mischiefs appeared first on Telly Updates.