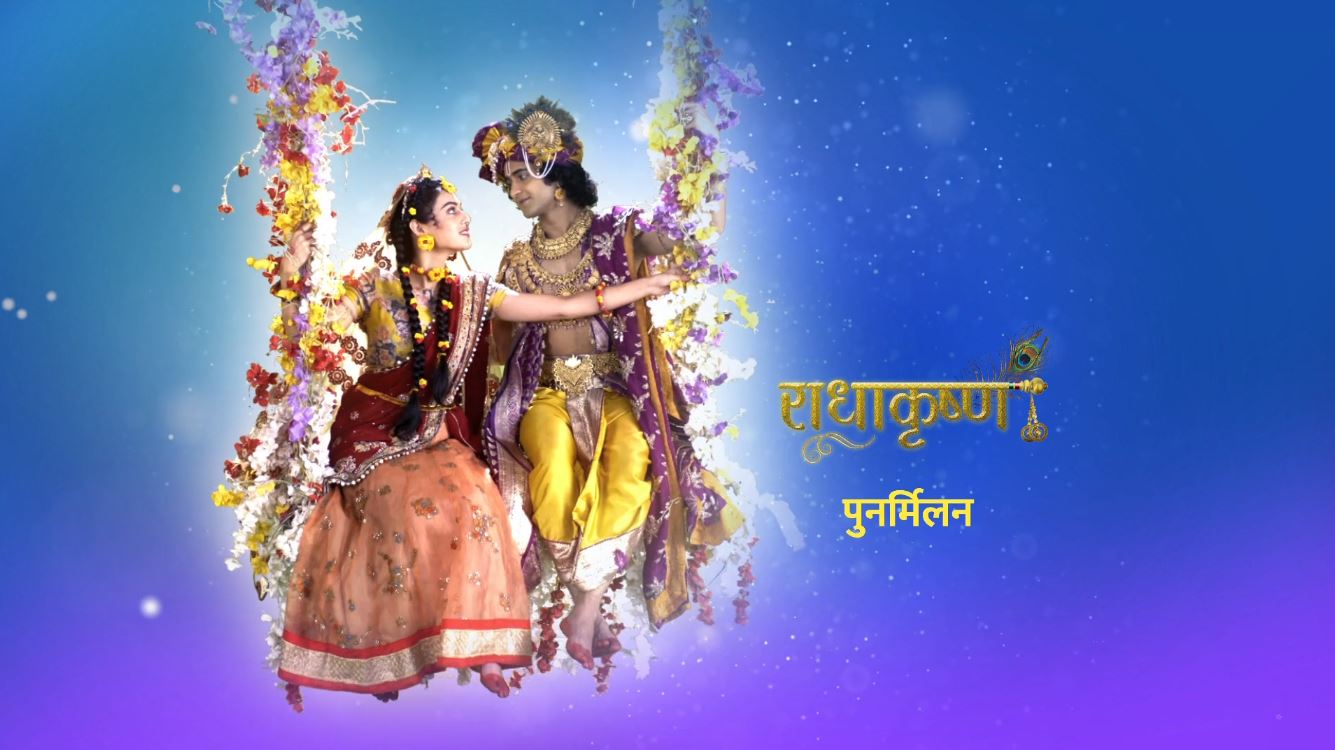 RadhaKrishn 29th July 2021 Written Episode, Written Update on TellyUpdates.com
Ganesh tells Mahadev that he liked Krishna mamaji/uncle who is not like Mahadev who is always serious. Mahadev gets angry and asks Devi Gauri to teach morales to her son. She apologizes and says she couldn't stop Ganesh from a eating. Ganesh warns Mahadev to dare not scold his mother. Mahadev says Gauri is his wife first and warns not to interfere between husband and wife. Ganesh says he doesn't know all that and will interfere if someone misbehaves with his mother. Gauri repeats Ganesh is a kid. Mahadev says Ganesh didn't let anyone have a single modak and they all are angry. Nandi says they are angry on Mahadev for scolding Ganesh as Ganesh is a kid and they enjoyed watching him having modaks. Mahadev says he was just trying to teach good morales to his son. Gauri takes away Ganesh angrily asking him to have Krishna's brought sweet. Krishna smiles seeing that. Mahadev realizes its Krishna leela/magic, angrily tastes kheer, but calms down tasting Radha's prepared kheer. He tells Krishna that he realized his leela and instead of getting angry, he will use love now to defeat Krishna leela.
Krishna rests on his bed when Balram with Radha walks in and asks why didn't he inform them when he returned from the feast. He says he was so satisfied with the feast that he got sleep. Balram asks what all did he have. Krishna says lot and especially modak. Balram asks whose feast did he attend. Krishna says Bal Ganesh and praises him. Radha says he should have brought modaks for them. Krishna shows a single modak and asks them to have it and serve it to everyone. Radha asks how will they serve a single modak to everyone. Krishna says its Ganesh's prasad which will never finish. They taste modak and say its very tasty like Radha's kheer.
Devi Gauri spreads flowers over Ganesh's bed. Ganesh asks what is she doing. She says she is spreading soft flower petals for his softer sleep. He says he is not sleepy. She makes him lie on her lap. He says he is getting sleep now. She says a mother's lap is the most peaceful place in the universe and a child falls asleep easily. Ganesh continues questioning her. She sings a lullaby to make him sleep. Krishna remembers Yashoda maiya hearing lullaby and plays bansuri. Ganesh asks who is playing bansuri. Gauri says his Krisha mamaji is playing bansuri. Ganesh says he will play bansuri when he meets mamaji next. Gauri says he can as he has right on Krishna's bansuri and asks him to seep now. Ganesh falls asleep. Mahadev praises Krishna's bansuri music and says Krishna made Ganesh sleep with his bansuri, tomorrow Ganesh will visit Dwarka and he knows how to send Ganesh there. He talks about a motherhood in every woman and refreshes Radha's memories. Radha in sleep dreams of playing with Bal Ganesh, wakes up, and thinks Bal Ganesh is so sweet and she wants to meet him in real. She walks to Krishna and says she saw Bal Ganesh in her dream and wants to meet him in real. Krishna realizes its Mahadev leela and nervously says Ganesh is happy with his parents in Kailash, so let him stay there. Radha insists to call him here. Krishna tells Radha that Dwarka is far away from Kailash and a mother will not let her son go so far. Radha gets convinced.
Next morning, Gauri asks Ganesh to meet his father. Ganesh hesitates saying father always scolds him. Gauri says parents scold children for their good and asks him to greet his father. Ganesh greets Mahadev. Mahadev smilingly welcomes him. Ganesh asks if he is not angry today. Mahadev says a father cannot be angry seeing his son's beautiful face in the morning and asks him to sit next to him. Ganesh sits next to Mahadev and asks if he can get his trishul. Mahadev gives him trishul. Ganesh plays with it and says if he had given it before, he wouldn't have created issue. Mahadev says he wanted his son to play with more powerful weapon than trishul. Ganesh asks who has more powerful weapon. Mahadev says Narayan has, his Krishna mamaji is Narayan who has the most powerful weapon sudarshan chakra which revolves, kills the enemy and returns back. Ganesh decides to visit Dwarka tomorrow and play with sudarshan chakra. Mahadev gets happy hearing that while Krishna gets tensed.
Precap: Ganesh asks Balram about Krishna. Balram sasy he has gone out for some important work. Ganesh says he will not stay here then and returning back to Kailash asks Mahadev where is mamashri. Mahadev says Narayan is in kshrisagar. Ganesh seeing Narayan meditating drinks whole kshrisagar water and thinks let him see how will Mamaji not wake up now.
Update Credit to: MA
The post RadhaKrishn 29th July 2021 Written Episode Update: Mahadev's Leela/Magic appeared first on Telly Updates.