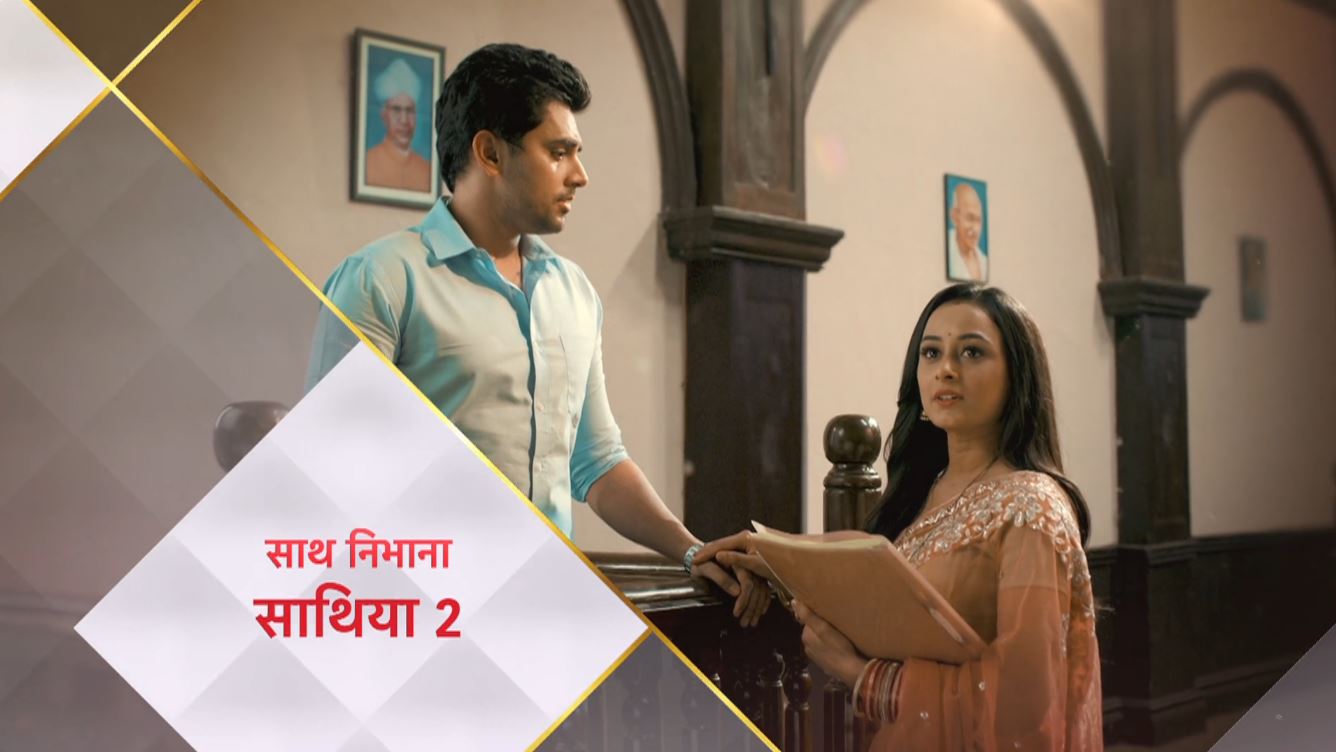 Saath Nibhana Saathiya 2 27th July 2021 Written Episode, Written Update on TellyUpdates.com
Gehna takes driving instructor Jagannath to police station and informs inspector that he did that accident and Anant is innocent. Jagannath accepts his crime. Inspector says its of no use now as the prime evidence is with them. Gehna asks to call his prime evidence as the prime culprit is with her. Inspector asks to call the prime evidence. He questions him. Kanak asks Gehna to stop interrogating like a lawyer as she is not a lawyer yet and they will bring a lawyer tomorrow. Gehna says Savitri didn't take advocate to heaven to bring back her husband Satyavan from Vamraj, says she will expose the truth. She questions evidence if he is sure he saw a male driving the car and not a woman. He says he is not sure. She picks inspector stick and threatens him to reveal truth. Evidence in fear reveals that a woman gave him money to throw the stone on car. Gehna says that accident was planned to trap her, but her husband was trapped instead. She reveals that Anant was taking online class during the accident and he can check the time and date on the site. She explains how Jagannath was bribed by the lady to change the gear while she was driving and commit this accident and says if inspector had carefully watched the car, it had dent on the left bonnet. Bapuji asks what if Sagar or the people who had kidnapped her planned this accident. Gehna says whoever has done this will be caught soon and requests inspector to free her husband. Inspector says her way of proving truth is commendable, but he cannot free Anant as whoever has done Hema's accident, it happened via Anant's car and they have to wait till tomorrow's court hearing. Gehna asks him to continue with his proceedings while she will get the evidence to prove that Anant is innocent. She will not let Anant go to the court. Family gets emotional hearing that while Kanak gets tensed.
Gehna then visits Hema in hospital. Hema acts as in coma. Gehna says she is feeling guilty seeing her in this condition, so she brought all her favorite dishes. Hema thinks once Gehna leaves, she will finish all dishes. Gehna says she will keep the food here and acts as crying loudly and leaving thinking Hema acted and put her family in trouble, she will expose her at any cost. She returns to family where Kanak provokes family against Gehna. Gehna tells family that she had gone to gather evidence and shows Hema's room's live footage where Hema is munching food. Family is shocked and Paresh asks when did Hema get conscious. Gehna says Hema was never unconscious and didn't meet with an accident at all and was acting. Baa heads towards Hema's room angrily. Kanak thinks she should save herself first as Hema is trapped now. Gehna stops Baa and says they should make Hema reveal the whole truth. She sends doctor and nurse in who act as giving Hema a big injection. Hema wakes up afraid. Family walks in. Hema stands tensed. Gehna questions Hema. Hema fumbles and lies. Kanak scolds her. Inspector enters. Hema gets afraid and tells that Anant is innocent as she never met with an accident. Inspector says victim confessed the truth and hence Desai family can reach police station and take Ananth home. Gehna says she will come to police station. Pankaj says he will accompany her. Inspector says he will arrest Hema for false allegations. Bapuji apologizes on Hema's behalf.
Back home, Desai family angrily looks at Hema. Gehna brings Anant home. Baa performs his aarti. Anant confronts Hema for trying to trap Gehna repeatedly. Hema accepts she wanted to punish Gehna for sending her bhaila to jail and for breaking his marriage with Tia. She says someone else was also involved with her. Kanak shows driving school pamphlet and says Hema hired that trainer and she was behind all the conspiracy. Chetan confronts Hema if she didn't think once about her husband or children before planning such a big conspiracy. Hema pleads to forgive her. He says she cannot be forgiven for this mistake. Hema says Kanak should also be punished as she was the mastermind of this conspiracy.
Precap: Gehna confronts Kanak for conspiring against her and putting the blame on Hema. Kanak asks if she knew the truth, then why didn't she prove it. Gehna says Kanak herself will prove her crime.
Update Credit to: MA
The post Saath Nibhana Saathiya 2 27th July 2021 Written Episode Update: Gehna Exposes Hema's Conspiracy appeared first on Telly Updates.