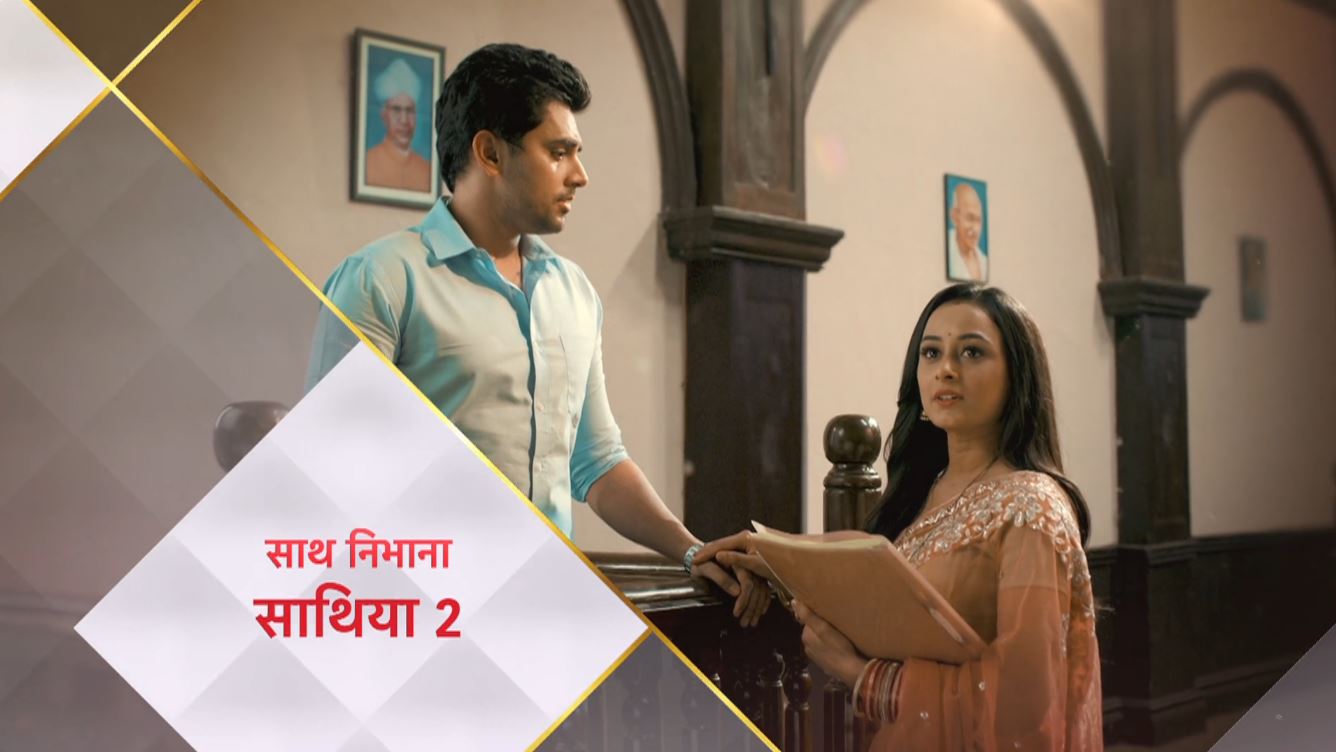 Saath Nibhana Saathiya 2 28th July 2021 Written Episode, Written Update on TellyUpdates.com
Kanak tells family that she knew Hema would allege her after getting Gehna out of her way, so she already gathered evidence. She says Hema did all this for her Bhaila Sagar, calls inspector and asking him to give let her speak to Sagar and questions Sagar who planned accident. Sagar says his sister Hema to take revenge. Hema shocked tries to speak, but Kanak disconnects call and thinks Hema's family is greedy and can even betray own family members for their benefit and Sagar blamed Hema to get out of jail on bail. Hema cries that Kanak must have bribed Sagar and pleads Chetan to forgive her. Chetan orders to get away from his vision. Baa says she will be punished and will be in a dark room like her son did and locks Gehna in a dark room. Gehna asks if she can call her Baa now. Baa says though she proved Anant innocent, even she lied to him and lost respect, an evil eye fell on her house that her bahus are doing wrong.
Gehna takes milk for Anant after dinner. Anant asks if she is still angry on him. She says no. He asks if she is hurt by mom's words, mom is right that she should have informed him beforehand. She says she wanted to learn car driving and surprise him, but whenever she tries something, her family goes against her and she now fears to do something as her thread of her relationship is still weak. Her pallu gets stuck in his cuff, she frees it and leaves wiping her tears.
Hema gets afraid hearing rat sound in dark room and seeing someone near window opens it and tries to hit the person. Kanak stops her and says its her and scolds her that if she had not craved for food, she wouldn't have been caught. Hema says Kanak is unfit to be with family and after exposing Kanak, she will support her family. Kanak says she brought food for her and now she should die hungry. She turns and seeing Gehna standing with food for Hema nervously says Hema did wrong by conspiring against Gehna and Anant. Gehna says she escaped again as she was the woman who bribed car instructor hiding her face. Kanak asks how will she prove it. Gehna says Kanak herself will prove it and the more Kanak tries to harm her and her family, the more she will fail her plan. She continues her speech when Hema opens the window and yells at her not to blame Kanak as she planned the accident. Gehna says she knows she is not the culprit. Hema shouts at her as usual and says Kanak brought wafers for her, takes wafters and food plate and rudely asks Gehna to leave. Gehna leaves. Hema then tells Kanak that she saved her once and now she saved Kanak. Kanak says she will destroy whole Desai family.
Gehna returns to her room reminiscing Hema's words. Anant asks her to give him a pen. She picks pen lost in thoughts. He says he is feeling unwell and needs kadha/herbal medicine. She brings him empty glass. He asks her to bring him a star from sky. She walks towards door. He stops her and asks where is she going. She says nowhere and thinks she cannot ruin their wedding anniversary due to her troubles. He says tomorrow will set everything right. She smiles and asks if he remembers it. He nods yes. Next morning, Gehna wearing new sari and jewelry walks to Anant and thinks she got ready like a TV serial heroine and hopes to get a gift box from her hero. Anant enters with gift box. Gehna gets happy thinking he remembers their wedding anniversary. Anant says its a special gift for his special friend's birthday. Gehna gets disappointed and thinks it happens only in TV serials. Anant holding her hand takes her near mirror and says she is looking beautiful today with an unique brightness on her face. She hopes he knows the reason behind the brightness. She walks down and after performing pooja offers aarti to family. Baa asks if she knows its a big day. Gehna happily asks if she remembers it. Baa says how can she forget it, Kantaben called them for the function. Gehna gets disappointed again and asks if she can offer prasad to Hema. Kanak hopes she doesn't get information from Kanak in lieu of giving prasad and says she will give it to Hema. Paresh praises Gehna. Kanak takes prasad to Hema's room fuming and falls down hitting her leg in dark. Hema laughs on her.
Precap: Kanak goes out with Baa when goons kidnap her.
Baa informs family about it.
Update Credit to: MA
The post Saath Nibhana Saathiya 2 28th July 2021 Written Episode Update: Gehna Challenges Kanak appeared first on Telly Updates.