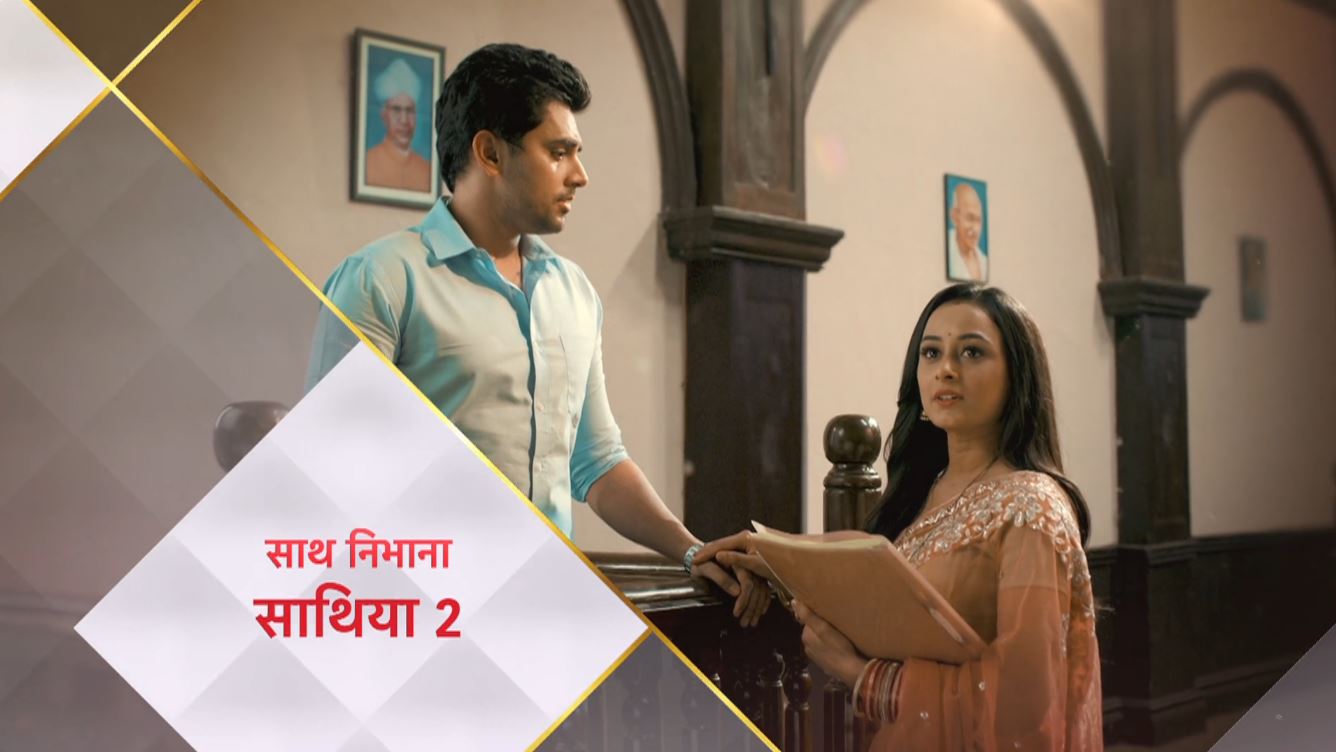 Saath Nibhana Saathiya 2 29th July 2021 Written Episode, Written Update on TellyUpdates.com
Desai family gather. Hiral and Paresh joke that even moon has a blot in it, it is not puran maasi today, etc. Chachaji asks if its something special today. Gehna disappointedly tries to leave thinking nobody remembers her wedding anniversary. Anant cheers her up singing Mai Koi Aisa Geet Gaawoon… song and showering flowers balloons on her with family's help and showing happy wedding anniversary placard. Kanak gets jealous seeing that. Gehna gets happy and asks Anant if he knew about this day. He says how can he forget this day. Sapan, Pankaj, and Chetan bring panipuri and ice cream stalls in. Gehna gets excited seeing the stall and says she thought they forgot the anniversary. Anant says if she thinks only she can act as forgetting. Bapuji jokes that a wife can forget wedding anniversary but husband cannot. Anant asks Pankaj to bring his bakery's special cake. Pankaj brings cake. Jealous Kanak crosslegs him, and cake falls down. She scolds Pankaj for spoiling Anant and Gehna's wedding anniversary. Gehna says its okay as she is happy that they remembered her wedding anniversary. Anant gifts her mangalsutra and says she followed a son's duty and married her 1 year ago and today he is gifting her mangalsutra and is gifting her mangalsutra. She gets happy, and they both take elder's blessings. Kanak reminds Baa that they should leave for the society function and walks away with her.
Gehna thinks Anant gave her a lot of gifts, even she whould do something for her. She prepares prasad laddu cake for Anant and takes it to their room and wishes him happy anniversary. He says wow, he never saw a special laddu cake. He cuts cake with her and feeds her, then asks if she didn't like his gift. She says it was his best gift ever. He asks why didn't she wear it and asks to return it. She returns it. He makes her sit in front of mirror and fixes mangalsutra in her neck. She gets emotional. He gifts her driving school admission form. She says she doesn't want to learn car driving seeing the recent events. She says one bad incident doesn't decide their destiny and says she must be thinking that family doesn't value her, but they need her. Their discussion continues when Baa calling Anant and others in a crying tone.
Whole family gathers seeing Baa crying and ask what happened. Baa reminisces goons kidnapping Kanak on the way back home from function. Kidnappers take Kanak to their den and tie her down. Kidnapper then calls landline and informs that they have kidnapped Kanak. Anant switches on landline speaker and asks who is he. Kidnapper says he will not free Kanak until his demands are fulfilled and says he will call back in the evening and if they try to act oversmart, he will ut Kanak into pieces. Family panics hearing that. Hema pleads to free her out of dark room and promises not to repeat her mistake. Chetan opens door and asks why is she shouting. She says she is feeling hungry and will not make a mistake again. Chetan warns to shut her mouth and be in the room. Baa asks him to bring Hema down. Hema pushes him away and runs out.
Kanak slaps kidnappers and asks if they informed Desai family. They say yes. She orders him to bring food. Hema munches food in her room and informs Chetan that Kanak kidnapped herself and is acting. Chetan says kidnappers called them openly and says he doesn't believe her. She says its up to him. Gehna informs Anant about same and says Kanak always troubled others and is acting as trapped. Anant says maybe she got trapped trying to trap others, they cannot even inform police. Gehna says they cannot, but themselves can search Kanak. Baa continues crying. Anant asks if she can identify kidnappers. She says she can't as they had covered their face. He asks if she can remember car's number. She reveals number. Anant says they cannot go to police, so they will search Kanak themselves.
Precap: Gehna opens a parcel and shouts in fear seeing a finger. Pankaj says its Kanak's finger.
Update Credit to: MA
The post Saath Nibhana Saathiya 2 29th July 2021 Written Episode Update: Kanak Is Kidnapped? appeared first on Telly Updates.