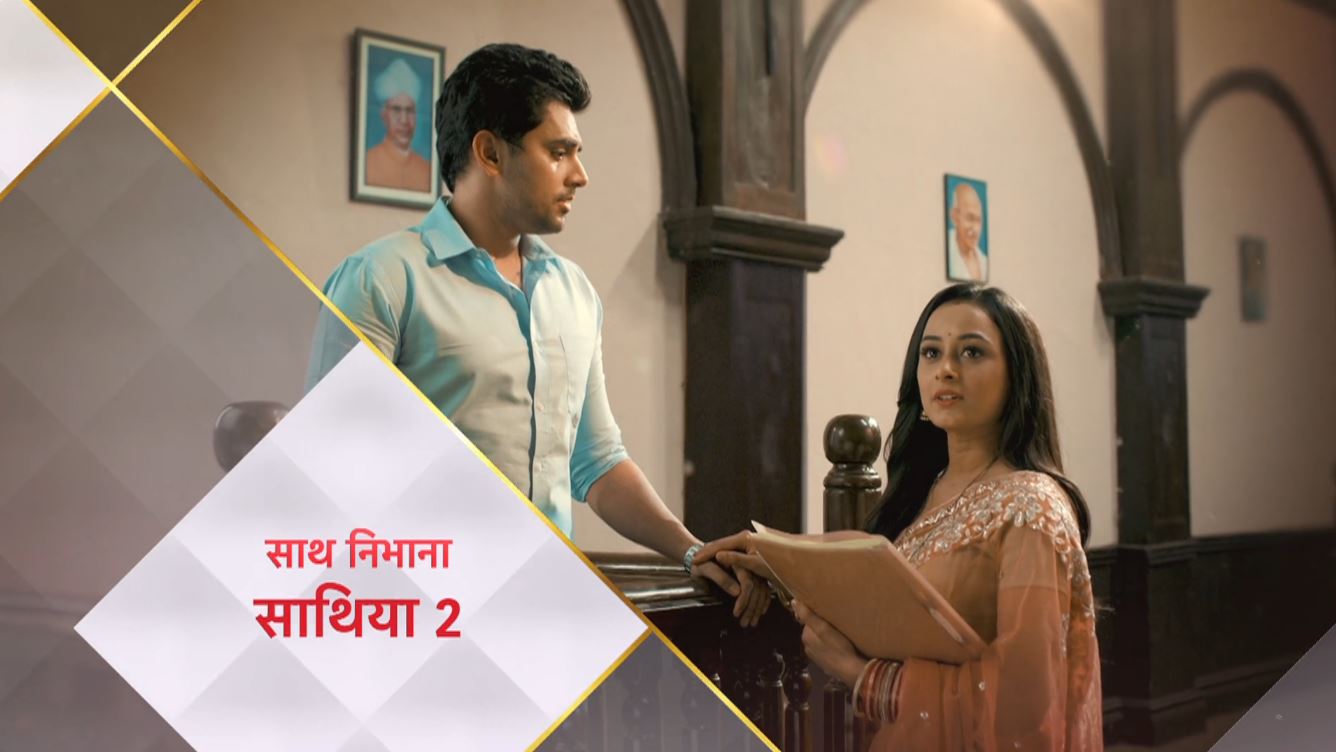 Saath Nibhana Saathiya 2 30th July 2021 Written Episode, Written Update on TellyUpdates.com
Kanak's kidnappers bring bhajiya/fritters for her. She scolds them to have it themselves as she doesn't eat oily food. Kidnapper says they get only this in the village they are. She gives them a list and asks to bring all the items soon. They ask money, and she scolds them to bring it. They walk away murmuring amdani athani kharcha rupaiya. Anant with Gehna requests his friend to track a car number and requests not to inform anyone as its a personal matter. Friend tracks location. Desai family eagerly waits near landline for kidnapper's call. Pankaj picks call and disconnects it first when milkman calls. Kidnapper calls him. He asks to let him speak to his wife. Kidnapper informs Kanak. Kanak scolds him to act like a real kidnapper. Kidnapper demands 10 crores. Pankaj asks how will they get so much money. Kidnapper says they should either sell their house or transfer it in their name or else be ready to lose Kanak. Anant returns home. Bapuji informs him that kidnapper is demanding 10 crores to free Kanak. Anant says they didn't have to pay money as they tracked kidnapper's car's location. Pankaj pleads that Kanak may have done wrong before, but they should get her back home somehow. Gehna says they will, but what if Kanak tricks them again. Pankaj promises to punish Kanak and feels Kanak is innocent.
At night, Kanak gets irritated with mosquito bites and shouts at kidnappers to light on mosquito repellent. Gehna reminisces Kanak's challenge to prove her guilty if she can. Anant seeing her lost in thoughts sasy she need not worry as they are on the right track. She says with their increasing bonding each day, nobody can shake their determination. Next morning, Anant informs family that car's owner will come here. Bapuji asks if he will really come here. Car owner Babu walks in and asks why did he call him here instead of booking car at his office. Anant informing car number asks if it belongs to him. Babu says its his car. Pankaj reacts and says alleges that he kidnapped his baby. Gehna asks Babu if he rented his car to someone. Babu says to his old friend Dinesh who take tourists on Gujrat sightseeing. Pankaj reacts again. Babu calls Dinesh and asks if he kidnapped someone. Dinesh denies. Babu asks to pick his video call. Dinesh disconnects call and rushes to inform Kanak. Babu says he will go to police saying something is wrong and his car is worth lakhs. Pankaj stops him. Dinesh calls him and introduces him to disguised Kanak and his aide as foreign tourists. Kanak acts and orders to cut the call. Babu disconnects call and says Dinesh will return tomorrow.
Dinesh's aide gets mesmerized with Kanak's beauty. Kanak scolds him. Dinesh says she told her family will give them money, but they involved Babu bhai. Kanak asks to call another number and makes him call Baa and acts as kidnappers torturing her and she pleading Baa to save her. Baa panics hearing her plea. Gehna asks her not to worry as kidnappers would have killed Kanak long back if they had to and something is wrong. Dinesh demands money from Kanak as her family didn't agree to give them money. At home, Hema informs Chetan that Kanak must be acting to grab money. He denies and walks away. She thinks Kanak would rather kidnap someone and is very cunning. Next morning, family gather. Paresh says he feels the issue is something else. Hema says its Kanak's wicked plan. Gets opens door hearing door bell and sees a parcel. She opens it and throws it away in shock seeing a finger. Pankaj says its Kanak's finger.
Precap: Pankaj tells Gehna that they should sell their house to fulfill kidnapper's demand. Anant says he has a plan.
Update Credit to: MA
The post Saath Nibhana Saathiya 2 30th July 2021 Written Episode Update: Kanak's Evil Plan appeared first on Telly Updates.