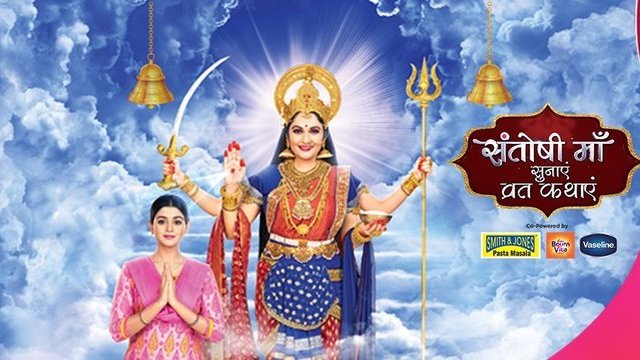 Santoshi Maa 26th July 2021 Written Episode, Written Update on TellyUpdates.com
The episode starts with Santoshi Mata Praying Prabhu Mahadev along with God Naagraj to help taking the Asoors books along with her which are guarded by Naagraj hence Prabhu Mahadev opens his eyes to intimate Naagraj while Naagraj moves away from those books allowing Mata to take it away & she praises both of them returning with the books.
Anju brings Swati to wash her hair but not getting washed while Rinky says it's not easy instead cutting is the best option & Samiksha also adds her statement saying it's right what Rinky said to cut her hairs because they can grow but these can't be washed it seems. Indresh is watching confusingly while his mother says that to stop interfering now & let me try with the oil but she is also shocked of not getting cleaned with oil too & Singhasan says to stop all this drama & cut the hairs but Swati shouts saying she won't allow to cut her hairs & prays Santoshi Mata for help.
Mata realizes her devotee's call for help but thinks she is helpless from this Naaglok's place to help her where her powers do not work but then too she searches something & finds a cactus plant which she plucks it while Swati's mother in law is about to cut the hair but Mata uses the cactus oil to pour on Swati's hair which falls on her hair restoring to normalcy making everybody stunned thinking of a miracle & Swati prays Mata for helping her due to which this has happened saying watching towards Samiksha that whatever problems I face my Mata helps me in all situations while Mata feels happy about Swati's praise.
Santoshi Mata faces Devi Polomi in her path who comes to stop taking away their Asoor community books but Mata tells her using these books for wrong intentions of bringing Asoor women's in life for planning to kill my devotee's child is also crime towards human hence stoppage has to be brought on this but Devi Polomi uses her powers to bring the road into two pieces by which Mata stumbles falling the books from her hands between the gap of the road & Devi Polomi feels delighted telling her to see the books have fallen down getting washed away but it's lifted by Swan to handover to Mata Saraswati while Mata Santoshi feels happy but Devi Polomi is angered.
Saraswati Mata handovers the books to Mata Paravati while Devi Polomi informs Guru Shukracharya about this who tells her he has known about it but Devi Polomi says they can't understand by this what we have done while Guru tells her to not to take lightly because this can be read only by Shri Ganesh & she says then they'll fall in big trouble hence he advises her to execute her plans as soon as possible till time Shri Ganesh is in meditation which I have gut feeling & she assures him accordingly.
Mata Santoshi takes the books to her father Shri Ganesh who is in deep meditation while Dev Rishi also arrives there but finding Shri Ganesh is in meditation hence they wait for his meditation to finish.
Swati performs prayers of Mata Santoshi & distributes Prasad while she tries to explain Indresh about heated arguments which must have happened & watching Samiksha says that due to child's arrival the atmosphere must be rejoicing in this house which isn't hence I have planned to perform Pooja of Shri Ganesh keeping fast also on Chaturthi if it's acceptable for you to join me while her mother in law also agrees for her plans but Indresh leaves from there & Singhasan says to not to keep any Pooja or fast but to concentrate on health to give birth to their child while Indresh again returns asking when is this Pooja & Swati feels excited with his acceptance of Pooja but Samiksha gets annoyed.
Indresh comes out of the house where Dev Rishi in disguise of Brahman was waiting whom he tells it's because of him he has agreed & Dev Rsihi appreciates him for taking right decision due to which Shri Ganesh will be impressed with this Pooja.
Swati along with all her ladies family members are discussing plans of Pooja & Samiksha finding Swati alone tells her that to not to think if Indresh has allowed you it seems he is with you but Swati tells her to beware of yourself because after roaming with Indresh for once or twice doesn't mean you know him more than me as I have lived my life with him hence I know what kind of person he is & Samiksha feels little shocked hearing this.
Precap: Swati is trapped in between people who are throwing tomatoes on her while Devi Polomi intimates Mata Santoshi to see the attacks of Asoors on Godly people including attack on your devotee's child which also gets hit of tomato & Mata Santoshi is shocked watching this.
Update Credit to: Tanaya
The post Santoshi Maa 26th July 2021 Written Episode Update – Swati's hairs become normal with help of Mata Santoshi. appeared first on Telly Updates.