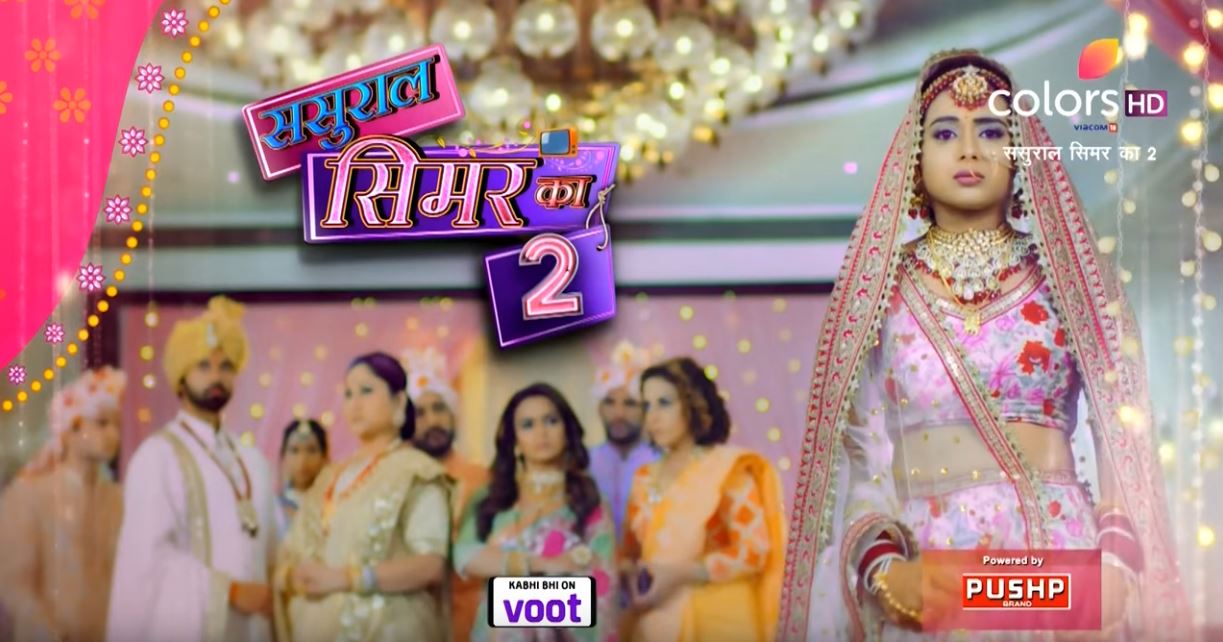 Sasural Simar Ka 2 27th July 2021 Written Episode, Written Update on TellyUpdates.com
The Episode starts with Aditi looking at the decorated place. Gagan comes there. Aditi gets tensed and tells that she was very scared. Gagan keeps his finger on her lips and forwards his hand. Aditi holds his hand. She swirls holding his finger. Gagan says Aditi. Gagan asks why are you nervous? Gagan asks her to tell him say today. Mahiya song plays….He bends down on his knees and proposes her, saying he don't have big house or cars like her, but has a cute heart which dreams about her and wait to morning to come, with the hope of meeting her. He asks will you…and makes her wear ring. Aditi hugs him. Gagan smiles.
Simar comes to the kitchen. Maharaj greets her and asks what dal to be made? Simar greets him as well and asks to made masoor dal. She asks did you all have breakfast? They say yes. She tells that she will make pakodas in the evening and asks Maharaj to wash the palak. Sandhya gets happy hearing this and says her mouth is watering. She asks if she is going out somewhere. Simar is about to say. Chitra comes there with Reema and says today Reema will make rasoi. Reema touches Sandhya's feet. Sandhya blesses her and tells that she is very happy to see her accept Reema lovingly and says it is good for family's peace. Chitra says nobody accepted Simar, then also you get her Chula pujan rasam secretly, and says Reema's marriage happened with full swing. She says did you remember, you got my Chula pujan done? Sandhya says yes. She says lets repeat the history and says Simar shall get the Chula pujan done with Reema. Chitra says she don't want anything wrong to happen and says Simar is here for just few days. She asks everyone to move as Reema will make food today. Aditi tells Gagan that he surprised her truly, and she will not forget this moment. He says let's do something more thrilling and says lets run away. He says after whatever happened between our families and says you are mine. Aditi says sometimes you surprise me and sometimes shock me. He asks if she thinks it is a joke. Aditi says she shall leave now, and says she liked his proposal and loves him too. She kisses on his hand. Gagan asks her to wait and asks her to think about his proposal. Aditi says she will think about it.
Reema asks Simar, shall I come on your place. Simar moves away. Reema stands there and does the ritual, and does puja of the kitchen stove. She tells Sandhya that she never thought that they will do such rituals in a big house. Simar says rituals is customized according to the values and not due to house size. Reema asks Sandhya what to do next? Sandhya asks her to pray to Annapurna God to make everyone happy. Chitra tells Sandhya that she will go to convince Badi maa and asks Sandhya to supervise Reema. She says all the best. Sandhya asks Reema to make sweets/halwa first and asks Maharaj to give kadai. Maharaj gives kadai. Reema asks food is made in oil or ghee. Sandhya says oil. Reema puts ghee in the kadai and says she will add more, as family size is big. Sandhya asks her to add suji now and then milk. Reema adds suji and then milk. Sandhya asks Simar to help her Didi and says after whatever happened with her, she is very nervous. Simar recalls Reema telling that she will shaken up everyone in the house and that she wants Aarav. Simar tells that she don't want any inauspicious thing to happen in Di's first rasoi. Sandhya says she will tell the secret today and says when three items, love, care and positivity. She says it will make the person's heart happy. Maharaj says when the food is good then the person's heart will be good. Sandhya asks Simar to help her and goes. Reema stops Simar and says this is my Chula pujan and you are just guest here and I am bahu here. She says so bahu will take kitchen decisions. Maharaj and other chefs look at each other.
Aditi comes there and teases Vivaan and asks him not to tell that nothing happened. Aarav hears her. Aditi says Bhabhi is making food. She teases Vivaan. Aarav asks her to go and do the work. Reema asks Simar, if her Chula pujan happened secretly as marriage had happened to cheat. She asks if she feels bad to hear taunts and says very soon you will not hear any taunts. Simar says I am your jethani and asks her to be quiet while having food. Reema says she will not get scared of her and asks her to be younger than her always. Maharaj says halwa is burning choti bahu and asks badi bahu if he shall add water. Simar asks Maharaj ji to ask her. Maharaj asks Reema to add vegetable as the ghee is hot. Reema adds much chilli powder. Maharaj says nobody eats spicy food.
Reema asks now you will tell me what is good and what is bad? She says you are a Servant and stay in your limits. Everyone coughs as the chilli burns. Reema asks Simar to help her and says Masala is burning, now what to do, shall I add sabzi. Simar turns her face. Reema adds the vegetables and asks Simar what to do, says it is burning? Simar says Chula pujan is yours, first rasoi is yours, what I will do by interfering. She says I am guest here and you are bahu and kitchen's decision is taken by bahu and not guest.
Precap: Reema asks Simar if she thought herself smart by making one sabzi. She says if she wanted she can make international cuisine, which they have never seen. She says if I want to prove myself then I will prove it. Simar says I accept this challenge. Later Reema makes food and the kitchen is messed up. Later she opens the lid to show the dish to everyone and gets surprised.
Update Credit to: H Hasan
The post Sasural Simar Ka 2 27th July 2021 Written Episode Update: Reema taunts Simar during her first rasoi appeared first on Telly Updates.