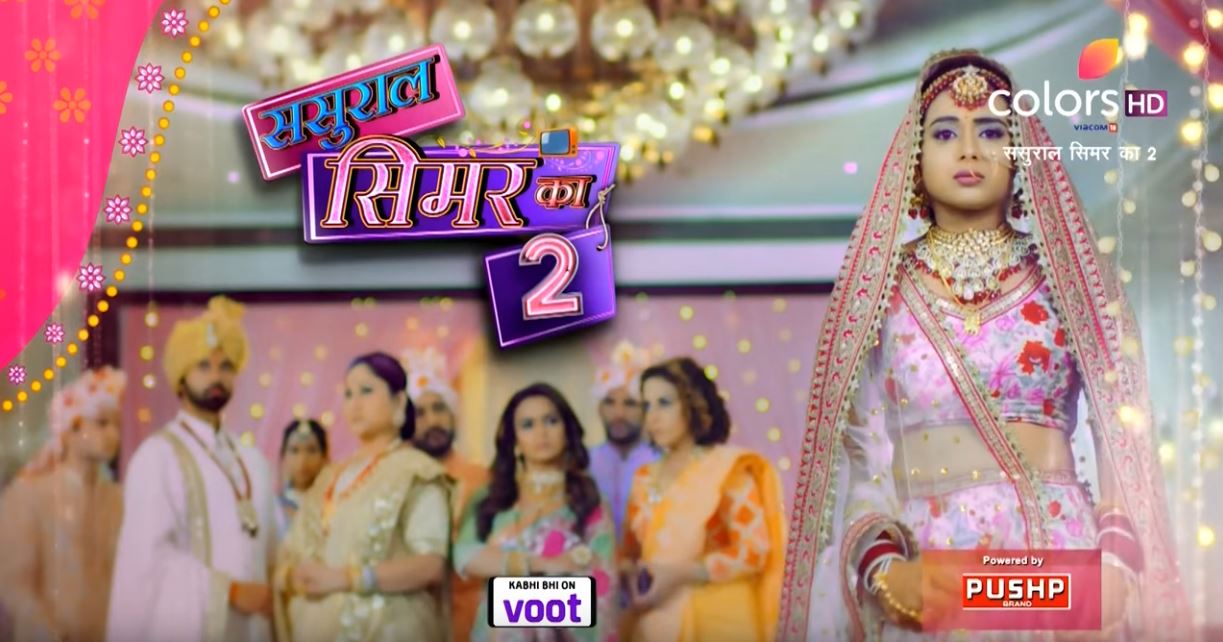 Sasural Simar Ka 2 28th July 2021 Written Episode, Written Update on TellyUpdates.com
The Episode starts with Reema asking Simar to tell what to do. Simar says Chula pujan is yours and it is your first rasoi, what will I do? She says I am guest here and you are bahu, and kitchen decisions are taken by bahu and not guests. She asks her to remember and says don't make badi Maa have spicy and burnt food. Reema asks Simar to help her and says please. Simar recalls Reema treating her. She tells Reema that if she had taken help from the people who cooks here daily and says they are Annapurna God's messenger. Reema asks Servants to go. Maharaj says both are different from each other. Reema asks Simar to tell what shall she do? Simar asks her to handle herself and says still there is sometime. Reema asks her to tell what to do? Simar says I entered here by cheat, but you entered here with honesty, so do this rasam with honestly and says will meet for lunch. Reema stops Simar and asks what does she think of herself by making a sabzi, tells that she can make international cuisines which they haven't seen. She says she don't want to do this, as she is not made to make food. She says if I have to prove myself then I will make the food and prove it. She says it is my challenge. Simar accepts her challenge and says atleast you will do this Chula pujan rasam for the challenge. Reema asks her to leave. Simar goes. Sasural Simar ka plays….Reema thinks what to do? Simar comes to her room. Aarav calls her. He says you have to leave in 1 hour and asks where is she lost? Simar says she had gone to kitchen. Aarav says your concentration shall be on recording and says there are many people to handle kitchen. He says I know you didn't get time for rehearsals, but I know that you will sing well. He gives her head phone to listen a song. Simar listens to a song. Aarav brings honey water and says internet Chacha told that voice becomes pleasant with this. He asks her to tell how is it? Simar says after buttermilk coffee, this recipe, you will learn all the recipes soon. Aarav asks if she is making fun of him. Simar says how can I dare?
Reema checks the recipes on internet and thinks to prove that she is kitchen queen too, along with beauty queen. She thinks to make shahi paneer, green chutney and halwa. She watches on internet and thinks green chutney takes lot of effort. She thinks to first make rice and roti. She finds the roti burnt and that's why thinks to make rice. She then makes green chutney and it splashes on her face. Chitra comes there and sees the chutney scattered on the floor and on Reema's face. She asks her if she made the food. Reema says yes. Chitra asks her to go and change her dress. She asks her to serve lunch to everyone.
Simar comes to kitchen and finds Paneer and halwa burnt. Aarav calls her. Vivaan asks Aarav where is he going? Aarav tells that he was taking Simar out. Vivaan says couple goals and says have lunch and then go. Aarav asks why you are excited. Vivaan says Reema made the lunch today and says don't tell me that I haven't shared my favorite thing with you. Simar comes out and hears them. Badi Maa is on call and comes to know that the work will be done.
Chitra tells Badi Maa that Reema is making something new for everyone, as it is her first rasoi. Reema comes there while Servant brings the trolley. She touches Badi Maa's feet, but the former turns her face. Chitra asks Reema what did she make? Aditi says I will help Reema. Chitra asks Aditi to let Reema serve today, as she made the food and today is her first rasoi. Aarav thinks where is Simar? Aarav thinks where is Simar? Chitra tells Badi Maa that Reema made tasty food that you will lick your fingers. She asks Reema to serve Badi Maa first. Reema serves rotis to Badi Maa and says today's special dish is Shahi Pan….She opens the lid and finds something Palak paneer. She says not Shahi paneer, but Palak Paneer. She says I got nervous and forgot what I made. She tells Badi Maa that she will serve her. She serves food to everyone. Badi maa asks everyone to start. Aditi tastes it and says Palak paneer is very yummy. Giriraj asks did you make chutney with palak paneer. Chitra says food is chatpata that chutney is not needed. Simar comes there and says chutney is here. Aarav looks at her. Simar says and also sweets. She says Reema di was very nervous and left chutney and halwa in kitchen. Reema looks at Simar. Simar recalls cutting Palak, Paneer and tomato fast and making palak paneer and halwa. She recalls making rotis too. Sasural Simar ka plays…She leaves hearing Reema calling Servants to bring trolley. Fb ends. Chitra asks Reema to serve the sweets. Reema takes the bowl from Simar and serves sweets to everyone. Badi Maa checks her phone. Sandhya tastes it. Aarav also tastes it and signs Simar. Simar signs him back. Sandhya says it is same as Simar's halwa. Reema tries to say. Simar says we have learnt from Maa and that's why the taste is same, due to same recipe. Vivaan says superb. Aarav signs Simar. Simar signs him ok. Reema comes to Simar and asks where are you going? She asks if you will not have palak paneer made by me, asks her not to think that she has done favour on her and says she has done her sister's duty which she has fulfilled well. She asks her to have palak paneer and pours on her clothes intentionally. She says it got stained and it is stubborn like me. She asks her to go. Simar says no problem, I will change. She signs Aarav. Aarav signs her. Reema gets upset. Aarav comes to room calling Simar. She wears her dupatta. He says I am sorry, I didn't know that you was changing clothes. Simar says I have changed, something had fallen on my clothes. She says lets go. Aarav says palak paneer smell is coming from you. She says it had fallen on her. He says you make tasty food, but its smell doesn't suit you. He sprays perfume on her. Song plays….Simar smiles.
He sprays on her hands. Simar says it is a bit too much. Aarav says sorry. Simar asks how we will hide from badi maa. Aarav says singing is your passion, we have to hide it. They come down and hears Badi Maa asking someone to go inside the house. Inspector and Lawyer come inside Narayan house. Lawyer says there is complaint against you. Indu asks what did we do? Inspector says you got this lavish things from daughters' money and says it is wrong to make the kids earn with wrong means. Badi Maa is on loud speaker. She asks Inspector to arrest him, drag him out of the house and lock him in jail. Inspector handcuffs Avinash and takes him out. Badi Maa says how he will be saved this time. Simar, Reema, Aarav and others are shocked.
Precap: Simar pleads infront of BadiMaa to leave her Papa. Badi Maa pushes her. Simar faints. Aarav runs to hold her. He lifts her and takes her to bed. Inspector drags Avinash and takes him out of his house. Aarav gets a call from the Radio station asking when Simar will come. Simar gains consciousness and shouts Papa. Aarav says Simar.

Update Credit to: H Hasan
The post Sasural Simar Ka 2 28th July 2021 Written Episode Update: Simar helps Reema, Badi Maa gets Avinash arrested appeared first on Telly Updates.