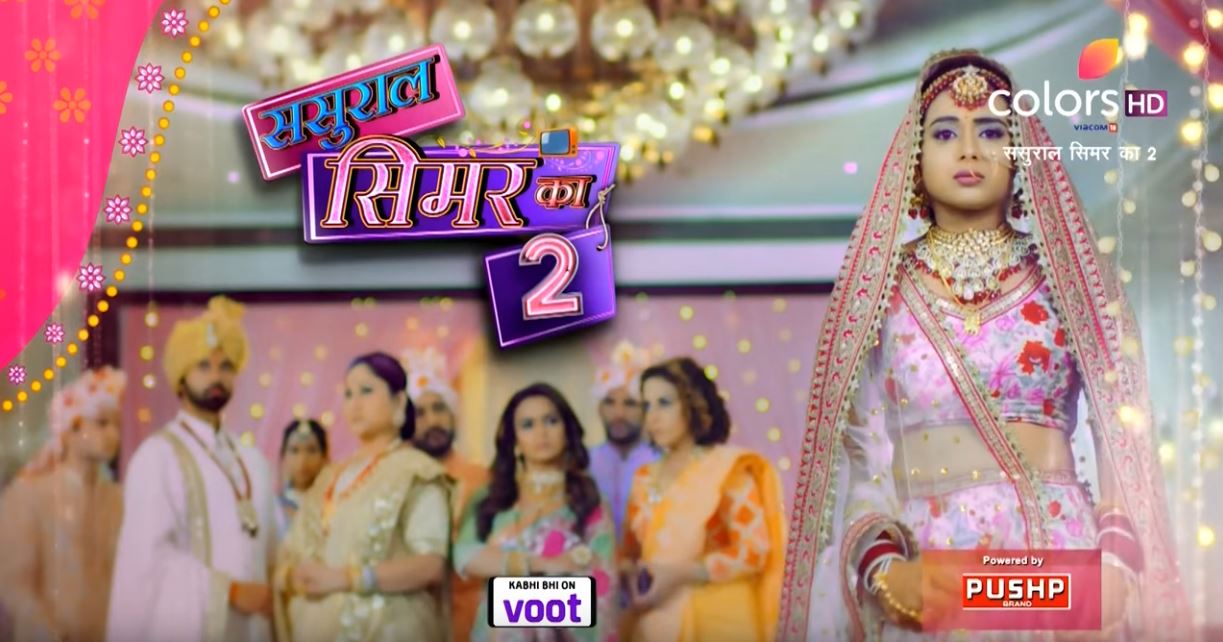 Sasural Simar Ka 2 29th July 2021 Written Episode, Written Update on TellyUpdates.com
The Episode starts with Police dragging Avinash out of the house, while the neighbors looks on. Gajendra asks Badi Maa, with whom she is talking to? Badi Maa asks him to see himself. She shows the video on the video call. Indu asks Inspector to leave her husband and says he is innocent. Inspector grabs Avinash's collar and holds him. Roma asks him to leave her Papa and says he is innocent. Inspector says your father had swapped his one daughter with another on the mandap and then got another daughter escaped with other. Reema and Simar are shocked and says Papa. Gagan asks Inspector if he don't feel ashamed to show his power on a simple guy. Inspector slaps him. Simar runs to Badi Maa and touches her feet. She says please…Inspector asks shall I get you inside? Indu says no, and tells that Reema and Simar haven't done anything illegal thing. Simar pleads infront of Badi maa to leave her Papa and says I am touching your feet, please spare him. Reema asks did you get this done? She asks what wrong our Papa have done with you and asks her to stop the Police. Chitra nods her to stay silent. Aarav asks Badi Maa why is she doing this? Badi Maa recalls telling Inspector to arrest Avinash and then humiliate him in public, so that they can understand that her patience is broken. She says I didn't do anything. Reema tries to say. Vivaan stops her. Aarav asks what did Avinash ji's family has done that you are doing so wrong with them. Badi Maa asks will you teach me what is wrong and what is right? Gagan says you can't take my papa. Inspector makes Avinash sit in the jeep. The neighbors tell that they don't know that professor can do such a thing. Badi maa asks if professor's respect is gone. He says yes, he is humiliated. Badi Maa asks Inspector to leave him. She recalls telling Inspector to threaten them and let them run from one corner to other, then arrest and then don't let them get bail. Vivaan says Badi Maa that you have gone to this extent. Aarav asks if this is right to torture someone mentally and physically and says they have some reputation in society. Badi Maa asks did you think about our reputation, when you brought this Simar back. She asks Vivaan if he thought about their reputation when he was trying to set himself ablaze. She says I am your father's mother and you might have seen the consequences to cross my way. Simar gets up and says I have to go to Papa. She gets up and runs. She faints and falls down. Aarav runs and holds her. Reema runs to her and asks her to open her eyes. Sandhya asks what happened to her? Reema says she has hypertension problem and BP gets low. Aarav lifts her. Reema looks at her. Indu, Gagan and Roma take Avinash back home. They hear people gossiping about them. Avinash asks what wrong did I do? Indu asks him to come home.
Aarav takes Simar to room and wipes her tears with her dupatta. He feels bad seeing her in such a state. He gets a call from radio station asking when Simar will come for recording. Aarav says in sometime. The guy says she is making the senior singer wait and wasting her own time. Vivaan says why Bhabhi is not gaining consciousness. Reema brings lemon water and asks her to drink it. Aarav asks Vivaan to take Reema to room and says I am with her. Reema insists to be with her, but Vivaan takes her. Aarav sits on the bed and rubs her feet and hands. Song plays….He recalls their moments. He says you have to bear so much in such a young age and hopes to share his problems. Sandhya and Aditi come there. Sandhya tells Aditi that Aarav is concerned for Simar and says it is very powerful, if it comes in relationship then it turns into love. She goes inside the room. Aarav says Reema had brought lemon water, but Simar is still unconscious. Sandhya asks Aditi to see her and goes to bring oil. Aarav calls Doctor and says Simar collapsed again. He thinks just like a daughter can never see her father insult, even she felt the same. Vivaan takes Reema to room and says we will make everything fine. Reema is in shock and shouts Papa, recalling Avinash's humiliation. She breaks the vase and pulls the bedsheet. Simar gains consciousness and calls Papa. She says I have to go and runs out. Aarav sees her running out and runs behind her. Vivaan tries to calm down Reema and hugs her. Reema cries.
Precap: Aarav and Simar come to Avinash's house. Aarav touches Avinash feet and takes his blessings. Avinash asks Indu to do their aarti. Indu does the rituals happily. Vivaan touches Avinash's feet. Vivaan says you are our damad's brother and came for the first time, so you shall be welcomed too. Reema says Vivaan is my husband too, Papa. Avinash says I believe that I have two daughters who got married with my consent. He refuses to accept Reema's marriage which is not accepted by both families and says it can be just a stain.

Update Credit to: H Hasan
The post Sasural Simar Ka 2 29th July 2021 Written Episode Update: Simar faints seeing Avinash's humiliation appeared first on Telly Updates.