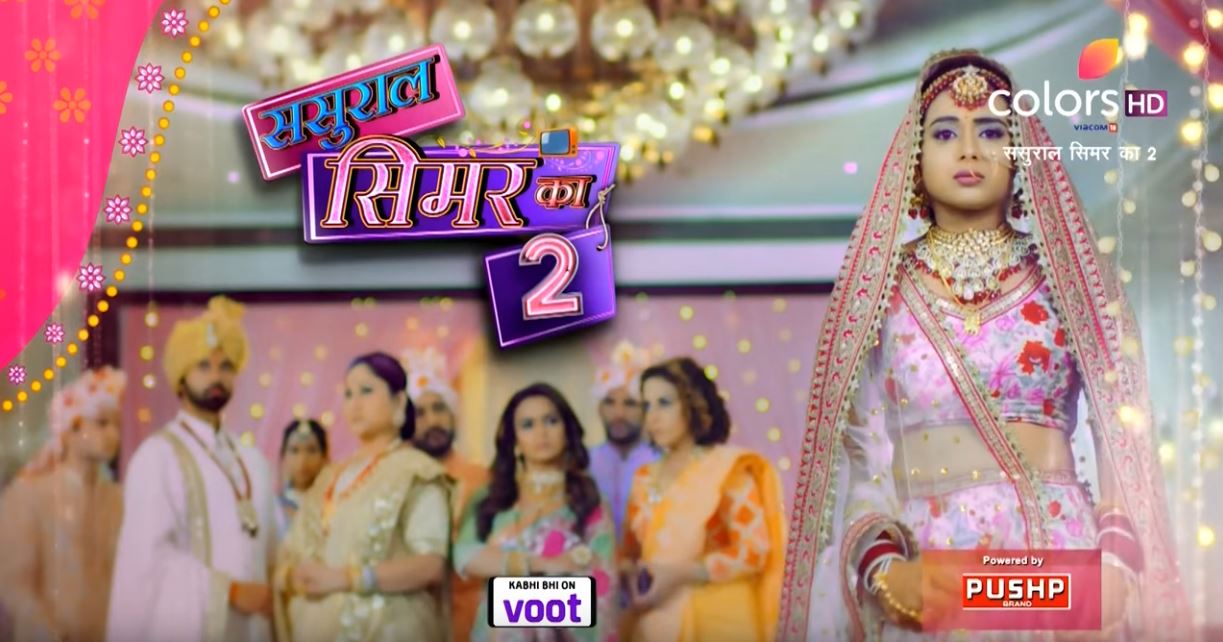 Sasural Simar Ka 2 31st July 2021 Written Episode, Written Update on TellyUpdates.com
The Episode starts with Simar getting emotional seeing Avinash and touches his feet. Avinash keeps his hand on her head. Simar touches his hands and recalls Inspector handcuffing his hand. She sees red mark on his head and feels bad. She asks if he is fine. Avinash says I am fine, I am standing infront of you. Simar hugs him and cries. Avinash asks her not to cry and says nothing has happened, don't cry. He says tears don't look nice in my daughter's eyes. He calls her Gudiya. Reema is about to go from there, but Vivaan stops her. They are still at the door step. Avinash sees Aarav and says damad ji, welcome home. Aarav touches his feet and says Papa ji, badi Maa shouldn't have sent police, I am feeling sorry for this. He says you are not alone in this circumstances, but Simar and I can feel your pain. He says I came here as a son and not as son in law. He says even his heart felt bad seeing this. Avinash asks him not to apologize to him. Aarav asks him to call him by his name. He promises that he will try to make everything fine, irrespective of the fact that Simar and my relation are for few days..and then says that their relation got stronger in few days and he knows Simar feels suffocated seeing their pain and he couldn't bear it. Avinash says you said all this, I got everything. Aarav takes his blessings. Avinash asks Indu to bring aarti to do his aarti. Aarav asks them to do aarti of a son and not of son in law. Avinash recalls Simar requesting him to give Simar 2's hand in marriage with Aarav. He tells Aarav that someone said right that jodis are made in heaven and prays that they stay stronger and together always. He says you both are same. He says I wish my other daughter would have save values as simar. Indu brings Aarti. Avinash calls Gagan and asks him to bring shagun. Simar gets tensed seeing Gagan angry.
Chitra talks to Shobha and asks her to find out if Avinash is alive or dead. Shobha gets upset. Indu tells that she will do aarti. Avinash collapsed and falls down on the ground. Simar runs to hold him. Reema also runs inside to hold him. Simar, Reema and Gagan help Avinash get up. Reema asks are you fine, Papa? Avinash brushes off her hand. Reema is shocked. Avinash asks Indu, why did you stop aarti? He sits on the sofa. Gagan asks Indu to do aarti of Reema and Vivaan. Avinash says I have just 2 daughters and I don't want to talk about others. He says when daughter is not mine, then how come the damad. Aarav apologizes to Avinash and tells that even Vivaan has same values has me, and loves Reema a lot from his heart, married her in the temple and kept her with respect in the house. Avinash folds his hands. Reema says Papa, I had come to meet you, to see if you are fine. Avinash asks since when the outsiders not ringing the bell. He asks Indu to tell that the family members are celebrating. Indu says if we don't welcome Reema and Vivaan, then it will be very inauspicious. She tells that if Maa ji would have been here, then would you have done this. Indu calls Vivaan. Vivaan sits on the sofa. Simar gets up to call Reema. Avinash stops Simar. Simar sits back with Aarav. Indu does Aarav, Vivaan and Simar's tilak. She then pours flower petals on them and does their aarti. Reema is still standing far. Indu makes Vivaan, Aarav and Simar have kheer. Aarav and Simar take Avinash's blessings. Avinash blesses them and gives envelope to Aarav, asks him to accept the shagun. Avinash then kisses Simar's forehead, and calls her Gudiya, asks her to be happy always. Simar and Aarav touch Indu's feet and take her blessings. Vivaan touches Avinash's feet. Avinash doesn't bless him. He goes inside and brings shagun envelope and gives to Vivaan. He says you are our damad ji's brother and that's why we shall give you shagun. Reema says Vivaan is my husband too. Avinash tells that he doesn't accept their marriage and the relation which is not accepted by both families is just a stain and not marriage pure relation.
Precap: Simar meets her inspiration Yamini Devi. If their meeting will shake up Oswal family and if Gitanjali Devi's hatred for music will be revealed.

Update Credit to: H Hasan
The post Sasural Simar Ka 2 31st July 2021 Written Episode Update: Avinash blesses Aarav and Simar appeared first on Telly Updates.