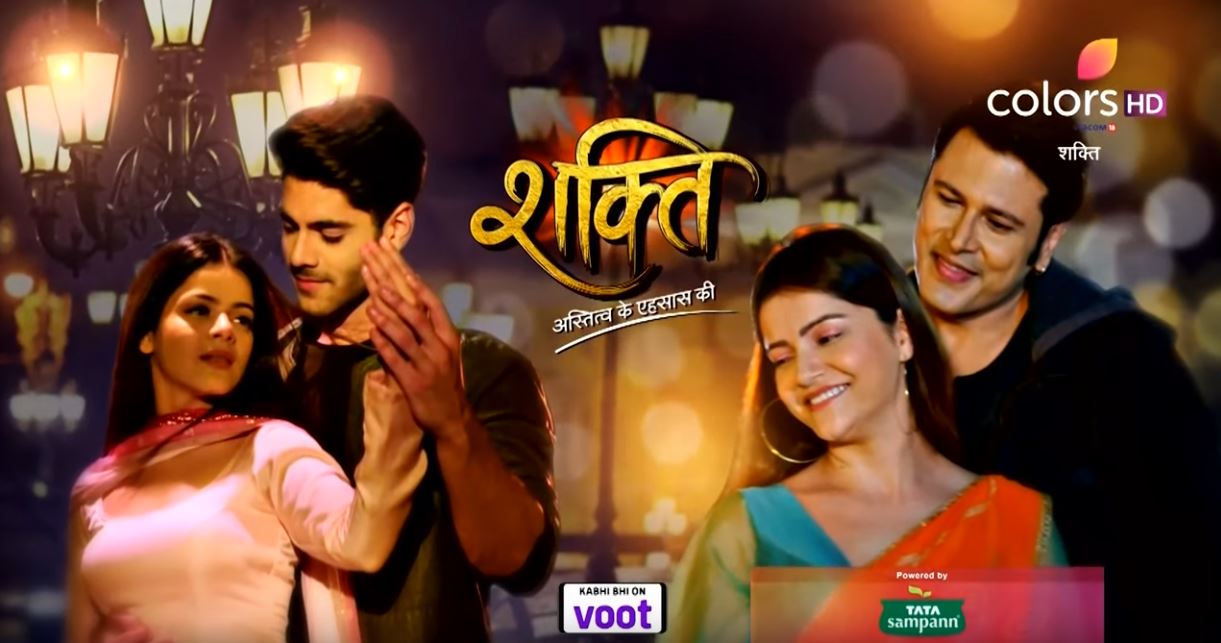 Shakti 29th July 2021 Written Episode, Written Update on TellyUpdates.com
The Episode starts with Balwinder asking Raavi to give him a chance. Raavi says I will give you a chance, but I can't forget how you troubled me and my son Chintu. She says I will never forgive you. Balwinder hugs her and promises not to give her any chance of complaint. Virat hugs Heer from behind and says he is romancing with his beautiful wife. Heer says you are getting more romantic today and says let me set the bed. The bedsheet falls on them and they look at each other. He holds her closer. Tera Ishq Hai plays…..Tu hi mera khuda plays….They have a playful mood and fall on the bed. Virat tells Heer that he don't believe in asking anything from anyone, but prays that your smile shall always be on your face. He says I love you. He asks if she loves him. Heer says I will think and tell you. She teases him. He says you are pulling my legs much. He gets Guru's call. Guru says I was searching you, where did you go? Virat says I was with my girlfriend. Guru says you didn't tell me. Virat says I am very shy person and that's why didn't tell you. Heer laughs. Virat signs her to be quiet. Guru asks if Heer is with you. Virat says why she will be with me, I was with my girlfriend. He ends the call. Heer asks about his girlfriend. Virat says my girlfriend don't talk to me. Heer asks why Guru called you at this time. Virat recalls Guru wanting to propose her, and asks her to stay away from Guru, as he likes you and wanted to propose you. Heer asks if you get jealous as someone likes me. Virat says I am not jealous, but worried that the matter might get worse. Heer asks him not to worry and says you are cute, I love you. Virat says I love you too. Heer hugs him and says jealous. Virat smiles.
Harman comes to Soumya and keeps hand on her eyes. Soumya calls him Harman ji and asks what is it? Harman shows the kulfi. Soumya says you and your mischievous things? They have kulfi. Harman asks her if she is thinking about Balwinder and says he thinks that people change with time, like Preeto had changed.
Heer and Virat come to the college and find some college guys fighting. A guy throws a flower pot on someone and it hits Heer. Guru and Virat run to her and ask if she is fine. Heer says yes. Virat looks at the guy throwing the pot and beats him. Guru looks on. Heer asks virat to stop. Guru tries to stop Virat. Virat hits the guy asking if he will hurt his wife. Guru is shocked and taken aback. Heer is shocked as Virat revealed their truth. Heer goes to Virat. Virat asks if she is fine and want to come to doctor. Heer says she is fine. She asks him to calm down. They look at Guru.
Soumya calls Harman and says you left your wallet like always. Harman says I did this intentionally, as I knew that you will come to give me. She says I will come with you to factory today. Balwinder comes to Harman and says I want to do work. Harman says it is good, I will talk some people and let you know. Balwinder says I want to work in your factory, as I couldn't get job anywhere due to my criminal record. He asks if you don't trust me. Raavi says Bhai haven't told this and asks Balwinder to win everyone trust if he wants work. Soumya says let me be. Balwinder asks for a chance and says he will win everyone's trust. Harman says ok, I will give you a chance. Soumya says I hope you don't break our trust. Balwinder assures them.
Guru comes to Heer and Virat. He asks Virat, if Heer is your wife. He asks him to tell, if they are married. He asks if she is your wife. Virat says yes, Heer and I are husband and wife. Heer asks Guru not to feel bad and says she doesn't want Virat to get distracted and that's why didn't tell anyone about their marriage. She says we didn't want to hide from you after our friendship with you and was about to tell you today. She shows her mangalsutra on her hand. Virat takes it out and makes Heer wear it. Guru looks at them. Guru says you have hidden a big fact from me. Heer says believe us, we didn't want to hide from you. Virat says I wanted to tell you. Guru says why you didn't tell me, why I told you that I like her. He says if I had moved on with my feelings then what would have happen. He says I can't understand that I liked my friend's wife. He says you have done wrong. Heer asks him not to feel guilty and says she had asked Virat not to tell anyone. She says when we came to know about your feelings, we were about to tell you, we are friends. Guru says yes, we are friends and asks why you didn't tell me. Heer says sorry. Virat says even I am sorry and asks for forgiveness.
Precap will be added when available.
Update Credit to: H Hasan
The post Shakti 29th July 2021 Written Episode Update: Heer and Virat's marriage truth reveals before Guru appeared first on Telly Updates.