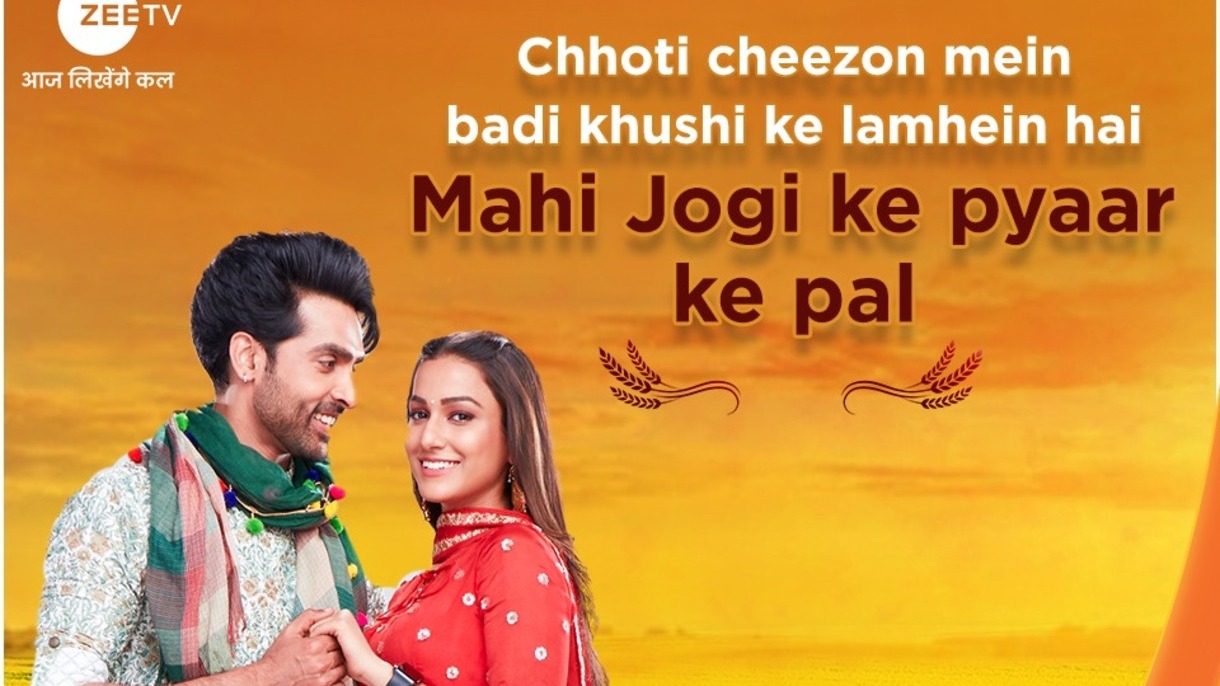 Teri Meri Ikk Jindri 29th July 2021 Written Episode, Written Update on TellyUpdates.com
Scene 1
Pappu says I will burn his tabela. He will buy my house? Chanda says calm down. We can't ruin our plan. He says I can't control my anger. Hurry up. Chanda calls Arjun. She says I am coming to meet you right now.
Scene 2
Jogi and Mahi keep marking days of trying. They start becoming hopeless. Mahi tries to cheer up Jogi. He drinks. Mahi stops him. Mahi says what were you doing? He says you can see it. It's been 21 days and we couldn't do anything. Only 9 days are left and we won't be able to do anything. Mahi says you gave up already? He says already? The entire month is gone. We couldn't do anything. No one even spoke to us. Mahi says give it time. He says for how long? I don't deserve anything and this bottle can end it. Mahi says you give up so easily. He says I don't daydream like you. We tried everywhere, nothing could be done without Arjun. He wants me to apologize to him. I will never do that. I will die.
Scene 3
Seema says to Renu you should speak to Jogi. Compromise is a sign of wisdom, not weakness. Ask him to patch up with Arjun so our dreams can be fulfilled too. Renu says it isn't easy. Seema says he only has to say sorry. Renu says no. Arjun will keep destroying their lives. Seema says what should we do now? Seema says God will find a way out.
Mahi says what about the promise you made to me? That you will buy me Pappu's house? You gave it up. We will go out of Amritsar and go to Mumbai. He says where will we live? What will we do? Who will take care of lsd, bebe, biji, this tabela, my jagratas? Let me drink. Mahi takes it and says don't talk to me about responsibilities. I know them more than you. I take care of them more than you. I don't get tired. Arjun is trying to bring us down but I keep facing it. I don't give up and drink like you. He says do whatever you want. Mahi leaves and sits in her Mc21.
Mahi sees Arjun's video. He says to the media yes I want to launch Jogi, we can polish him. but we never came to meet us. Mahi is shocked. Chanda says Mahi, Arjun is dying to launch Jogi. How long will you run here and there? Mahi says she can't break me. Mahi leaves in anger. Jogi says Mahi? Where did she go? He sees the video as well. Jogi gets angry and drinks. Rupa says what are you hiding? He says nothing. She sees the bottle in his hand. Rupa says I taught you to never drink. What is this? Why did you drink? Because of this alcohol, you know what happened in this house. Why did you drink? He says because I am not happy. She says I can see that you are not happy with Mahi and neither is she. Nor will she ever be. He says no I love her. She's happy with me. Rupa says happy? You're blinded by love. Jogi says she loves me and respects you. Rupa says nothing is okay. If you were happy you won't be sitting here and drinking. Jogi says let me drink. She says no. This won't solve your problem. It will make your problems worse. It will make you a slave. He says I will never drink after today. Just give it to me right now. Rupa slaps him. Jogi falls on the bed.
Scene 4
Chanda comes to meet Arjun. He's on call and says I will close it. He says can't you see I was on call? Can't you shut up? Chanda says it's been a month. Jogi and Mahi won't come to us. We have to find another way out. He says you are right. Go and bring Mahi to me. She says what? why? He says you wanted a new plan. So I want Mahi here. I know you can do that. We are perfect for each other because you can do anything. Couple goals. Chanda leaves.
Scene 5
Rupa sits upset. Mahi comes back home. Rupa sits in her feet. Mahi is shocked. Mahi says bebe, what are you doing? She says I was requesting you. Mahi says order me. Rupa says 18 years ago Jogi's dad died. You know how? She shows her the bottle. Mahi recalls Jogi was drinking it. Seema says 18 years ago this alcohol took Jogi's dad and now it will take my son. But this time only alcohol isn't responsible. You are too. Your wish to make him a superstar might not make him a singer but an alcoholic. I saw him broken and helpless. And you are responsible for it. Your greed, your dreams. When someone drinks, that house is sick. The disease in our house is you. You shouldn't force to change someone. I hit my son for the first time because of you. Because of your greed my son is broken. Everything is over because of you.
Episode ends.
Update Credit to: Atiba
The post Teri Meri Ikk Jindri 29th July 2021 Written Episode Update: Jogi gives up appeared first on Telly Updates.