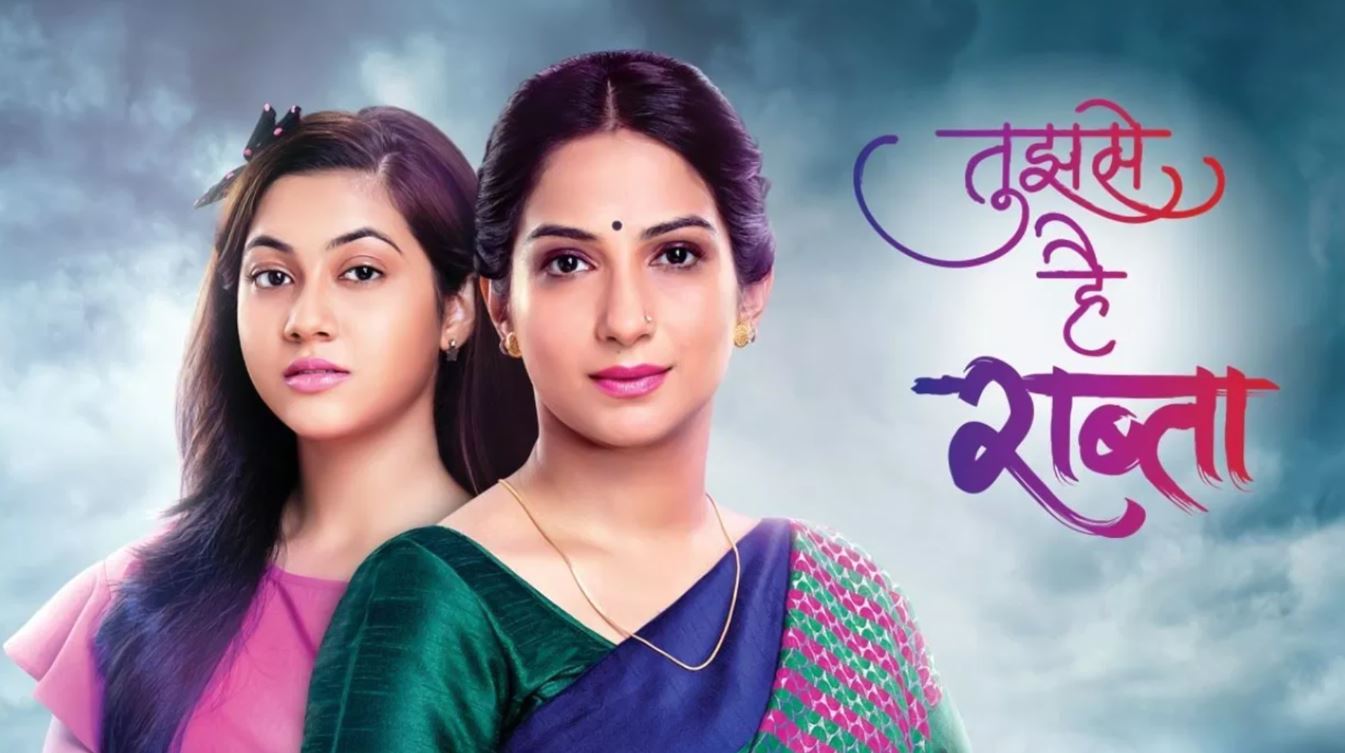 Tujhse Hai Raabta 28th July 2021 Written Episode, Written Update on TellyUpdates.com
The Episode starts with Aao Saheb worrying about the court case and asks God to protect Kalyani. Sarthak says nothing will happen to her, don't worry. Aao Saheb calls Godaveri and gets aarti from her. She does Sarthak's aarti and gives Kalyani's responsibility to him and says it is your duty to save Kalyani. Anupriya asks Sarthak to bring Kalyani home. Sarthak says Shipi has given me all the evidence against Akshay and I will prove that Kalyani shot him in self defense. Aao Saheb asks him to come victorious. Sarthak assures Anupriya that he will prove her innocence. He says I think that I have forgotten my car keys. Anupriya says I will bring it and goes inside. Godaveri says I will check in the room. Just then they hear the blast and run out. They see Sarthak coughing and his face blackened, and fire near him. Sarthak tells Anupriya that he was waiting for him, when a ball came there and it blasted. Anupriya asks him to come inside and says I will apply medicine to your injury. Sarthak asks Godaveri to get his bag. Godaveri says there is no bag. Sarthak says it had all the proofs in the bag and says the same person got this attack who came to steal my bag. Anupriya says Kalyani is in trouble.
Aao Saheb says what to do, Kalyani's case hearing will start in sometime and asks what will we do now. Anupriya comes there and says I will fight the case now. She says she will do everything to save her daughter. Aao Saheb, Sarthak and others pray to God.
Anupriya comes to the court and sits with Kalyani for sometime. Judge comes there and says we are doing the case hearing in this private room, as she is ex employee. He says the judgement will be for justice for any other case. Malhar is standing outside and thinks don't know what is happening, if Kalyani got the bail or not. Indu's lawyer tells that Kalyani Rane has confessed infront of media that she had killed Akshay and says she shall get rigorous punishment. Anupriya says whatever Kalyani did was in self defense. Indu's lawyer says they have enmity with Indu and Malhar had arrested her in fake case. Anupriya shows the prove to Judge about Indu. Lawyer asks Anupriya what she will tell about Indu's kinnar son and Godaveri's marriage. She says Kalyani has taken revenge from Indu this way. Anupriya says Godaveri and Ajinkya got married by cheat and Indu confessed this. Lawyer says Godaveri used to love Akshay, but she got married to Ajinkya, a kinnar and that's why Kalyani took revenge. Anupriya says they can't take revenge, as we all know that Akshay was a rapist and a criminal. Indu's lawyer asks Judge to punish Kalyani severely. Anupriya snatches gun from Pawar and tells that if this is the only way to take Kalyani out then I will do. Kalyani asks Anupriya not to do this. Indu's lawyer snatches gun from Anupriya and aims at her. Judge asks them to stop it. Pawar snatches gun from lawyer's hand. Anupriya I rest my case and says just like lawyer snatched gun from my hand to save himself, without thinking that you are standing here, Kalyani also shot Akshay in self defense to save Shilpi's respect. Judge asks Anupriya how she can do this in court and insult it. Anupriya says Sarthak was attacked before he was about to come to court and I was left with this option. Judge says this is not the right way, I shall dismiss you and send your client to jail, but after hearing you, I understand your helplessness and freeing Kalyani with respect. He dismisses all the charges from Kalyani. Anupriya thanks Judge. Pawar opens the handcuffs. Kalyani hugs Anupriya and thanks her.
Aao Saheb and others are praying. Anupriya calls Aao Saheb and informs her. Everyone asks what happened? Aao Saheb says court has freed Kalyani of all charges. Pawar comes to Malhar and informs him about Kalyani's freedom from the case. Indu's lawyer comes to Anupriya and congrats her. Anupriya says sorry for whatever she has done. Lawyer says I have lost this case from a mother and not from a lawyer. Anupriya asks Kalyani to come home and says she has kept puja for her. Kalyani says you knew that I will be freed. Anupriya says I am a mother and knows all. They go home.
Malhar and Sarthak do all the arrangements. Godaveri says they are doing this to attend the function. Anupriya says men can't attend the function. Sarthak says Malhar is baby's father so will be here. Aao Saheb asks them to go. Sarthak says I have lost. Godaveri asks where to keep the return gifts. Anupriya says here. Aao Saheb asks if Kalyani is ready. Anupriya says I will check. Malhar says shall I check? Aao Saheb says no. Shilpi is about to leave, but Kalyani stops her and asks where is she going? Shilpi says you have to bear so much due to me and tells that she shall leave. Kalyani says everything is fine now, Indu's chapter is over and Akshay is dead. Shilpi says you have always supported me and didn't let the accusation come on me. She says you shall think about your baby and not me. Kalyani says she thinks about everyone and tells that Aai's NGO will help her. Shilpi says I will manage on my own and will not take your help. Anupriya comes there and asks if she don't trust them. Shilpi says I trust on you all more than myself. Anupriya asks her to promise that she will not go anywhere. Kalyani insists. Shilpi promises that she will not go anywhere.
Precap will be added later.
Update Credit to: H Hasan
The post Tujhse Hai Raabta 28th July 2021 Written Episode Update: Anupriya proves Kalyani's innocence in court appeared first on Telly Updates.