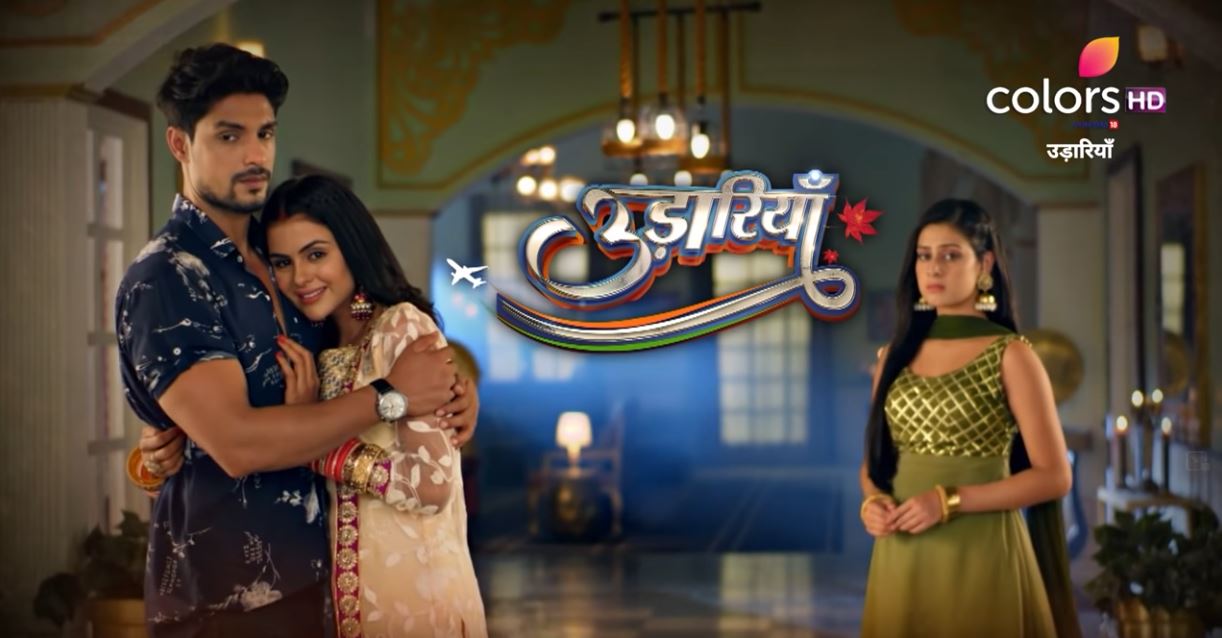 Udaariyaan 27th July 2021 Written Episode, Written Update on TellyUpdates.com
The Episode starts with Jasmin saying I didn't care for the consequence, that's why we are together. Fateh says I will never leave youalone, you are my first and last wish, I love you. She says I love you too. She says I don't care for anything now, I don't want to wear a ring of Gippy's name in my finger. He ties her dupatta thread to her finger. Mami looks for Jasmin. She goes and knocks the door. She gets inside. She doesn't find Jasmin there. Jasmin also ties the golden thread to his finger. They hold hands. Mami comes there. Fateh hugs Jasmin. He sees Mami coming and hides with Jasmin, behind some tree. Fateh gets away. Jasmin says I just wanted your love sign, which I got. She goes back. Fateh recalls Tejo and worries.
Jasmin comes inside the house. Mami stops her and asks where were you, what are you planning to do. Jasmin says don't worry, you will know whatever will happen. Mami says there is still time, you just come and get engaged, I will see what you do. Jasmin says you will see now, you can't do anything. She smiles and goes.
Tejo stops Fateh. He says I went to washroom. She says thanks for coming here. Jasmin gets a knife. Mami asks what are you doing. Jasmin slits her finger. Mami gets shocked seeing her bleeding finger. Jasmin screams. Everyone hears her scream. They run and see Jasmin fallen unconscious. Fateh comes and gets shocked seeing Jasmin's bleeding finger. He worriedly lifts Jasmin and takes her. Tejo and Gippy look on. Tejo asks Satti not to worry, she will go to the hospital with Gippy, she will call them. The lady says Fateh is so good, he lifted the girl and took her to the hospital without your saying. Satti looks at Rupy.
Fateh asks the nurse to call the doctor. Jasmin smiles and signs him. Doctor comes and checks her wound. Tejo and Gippy come. Tejo asks about Jasmin. Doctor says she is fine, go out and sit. Tejo asks Fateh to come with her. She holds his hand and takes her. She says don't know whose bad sight caught her. Fateh says I didn't think and got her suddenly, you would have felt bad. She says no, anyone else would have done this. He says everything will get fine. He hides the thread tied to his finger. Satti asks what. Gippy's mum says yes, we will postpone the engagement, we will keep the engagement when Jasmin gets fine.
Satti says no, Jasmin is okay, Tejo has informed me. The call disconnects. Satti says she refused for the engagement. Mami says come with me, I need to talk. Tejo asks Jasmin how are you now. Jasmin says I feel bad that everyone was so happy, the function spoiled because of me, I m sorry. Tejo says its fine, get well soon. Fateh says sorry bro, suddenly I got her here. Gippy says I should thank you, I can't lift her alone. Tejo laughs. Mami says Jasmin did this, she had cut her finger intentionally, I have seen it with my eyes. Satti asks what are you saying, Jasmin isn't so mad. Mami says she can cut everyone's throat as well. Satti says stop it, I know my daughter well, I know you well, you are after her. Mami says I m not her enemy to make stories, I have seen her cutting her finger. Rupy worries.

Precap:
Jasmin asks shall we meet tomorrow. Fateh says done. Tejo asks Fateh where are you. Fateh lies to her. She gets shocked seeing Tejo coming. She hides from Tejo. Tejo sees her and asks why are you hiding.

Update Credit to: Amena
The post Udaariyaan 27th July 2021 Written Episode Update: Fateh promises Jasmin appeared first on Telly Updates.