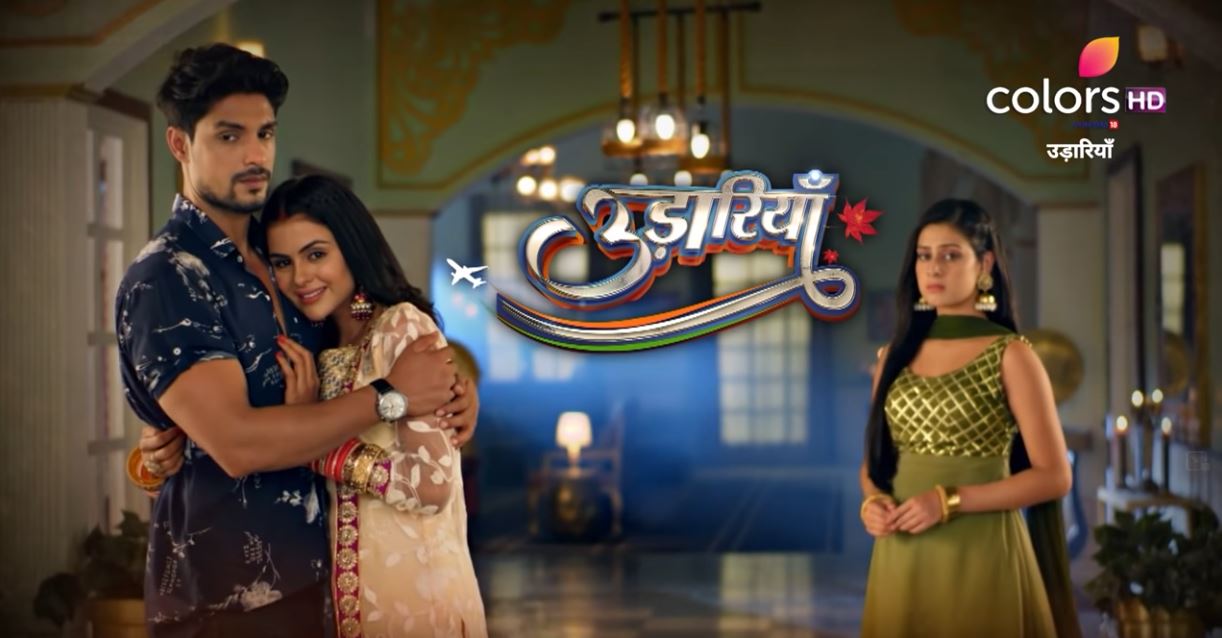 Udaariyaan 28th July 2021 Written Episode, Written Update on TellyUpdates.com
The Episode starts with Satti getting a call from Gippy's mum. She says Bebe, there is nothing to worry, she said she will get the engagement done with the marriage. Everyone gets relieved. Jasmin lights the candles and smiles. Tejo is sleeping. Fateh is in washroom, talking to Jasmin on video call. He asks why did you get mad and cut your finger. She says I m very mad for you, I can cut even my throat for you, do you miss me. He says I miss you a lot. She asks what's this sound, you have kept the tap running. He says Tejo is sleeping, we will talk tomorrow, go and sleep. She says Fateh, I won't get sleep now, I will take revenge on you. He says fine, take revenge. She asks right now, you look more cute when you get shy. He says go and sleep. She says we will meet tomorrow, say done. He says done. She says we will meet in the mall. He says done. She says fine, we will meet at 2pm. He says Tejo will wake up, bye, good night. They exchange flying kisses and end the call. She says I knew it, you are just mine. Fateh goes to the room. Jasmin smiles and goes to sleep.
Its morning, Satti says I m glad that Jasmin got a good alliance. She asks Mami to have food. Jasmin comes and greets. She says I m fine now. Satti asks her to sit and have food. Tejo recalls Fateh's shayari and smiles. Mahi says you are making parathas for special Fateh. Tejo says yes, he does special things. She smiles. Satti says I m very happy seeing you happy. Jasmin thinks I m very happy. Mami recalls Jasmin's words. Jasmin signs her and smiles. Tejo serves the food to everyone. Nimmo asks did the engagement happen. Fateh comes and says yes, everything went well. Tejo goes to get parathas. Biji says I wish Jasmin also stays happy in her Sasural.
Fateh checks Jasmin's pic and smiles. Tejo asks Aloo paratha or Gobi paratha. He says Gobi paratha. She says but you didn't like it. He says Aloo paratha. She goes to get it. He smiles seeing the pic. Dada ji asks what's the matter, you look happy. Fateh says aloo parathas are prepared today. Jasmin asks is everyone around. He looks at Tejo. Jasmin calls him. Tejo comes. His phone falls. He picks it before she picks. Jasmin's call is answered. He says its coach's call. Tejo says we have to go for lunch, my colleagues have invited us. He says sorry, I forgot, I will pick you up from the college, I will talk to coach and come. He goes. Khushbeer and Tejo praise his passion for work. Jasmin says I heard everything, we have to go out, you made this lunch plan with your wife. He says I want to meet you. She says then refuse to Tejo, tell her that you have work. He says trust me, I will tell her, we will meet today, done. She says how sweet, I love you Fateh, what shall I do, I can't wait, I m excited to meet you.
He asks how is your hand now. She says its fine now, I m happy that I will meet you. He says fine, see you. He ends the call. He sees Tejo. Satti says its good we have kept Jasmin's clothes ready. Dilraj says taxi has come. Jasmin gets ready and comes. Satti asks where are you going. Jasmin says Gippy called me to meet. Mami asks why, he can come here. Jasmin says he said we can go for shopping, I agreed. Mami says I will call him and ask him, why is he calling you. She calls Gippy. Jasmin worries. Mami says you are missing Jasmin a lot, where are you both going out, you had called Jasmin, right. Gippy says yes, I was going for shopping, I thought to get Jasmin along, what happened, did you feel bad. Mami says no, you both can go out, Jasmin has left from the house. Jasmin asks Satti shall I go. Satti says yes, go and come back soon. Jasmin leaves.
Jasmin calls Gippy and says thanks, you helped me and lied to Mami. He asks how were you sure that Mami will call me. She says yes, I also want to go out and enjoy, I will be going to Canada with you, I like this about you. He says I like that, enjoy. She says my plan worked, I wsh Fateh lied to Tejo. Tejo waits for Fateh. She calls Fateh and says come soon, Nisha is calling. He says sorry, I can't come, I have to go to Chandigarh to meet the minister. She says its okay, I understand. He says you are lovely, you always understand, really sorry. She says work first, we can have lunch some other day, all the best for your meeting. He ends call and says I had to lie to Tejo.
Jasmin asks why did you stop the car. The driver says it broke down. Tejo tries to hire an auto. She sees Tejo coming. She hides and says how did Tejo come here. Tejo comes to the taxi seeing the dupatta stuck in the door. She says excuse me Mam, your dupatta is stuck here. She sees Jasmin. She asks you here, why are you hiding. Jasmin says no, I was picking my phone, it fell down. Tejo asks where are you going. She hears driver saying Chandigarh. She asks why are you going to Chandigarh. Jasmin worries.
Precap will be added later
Update Credit to: Amena
The post Udaariyaan 28th July 2021 Written Episode Update: Fateh and Jasmin decide to meet appeared first on Telly Updates.