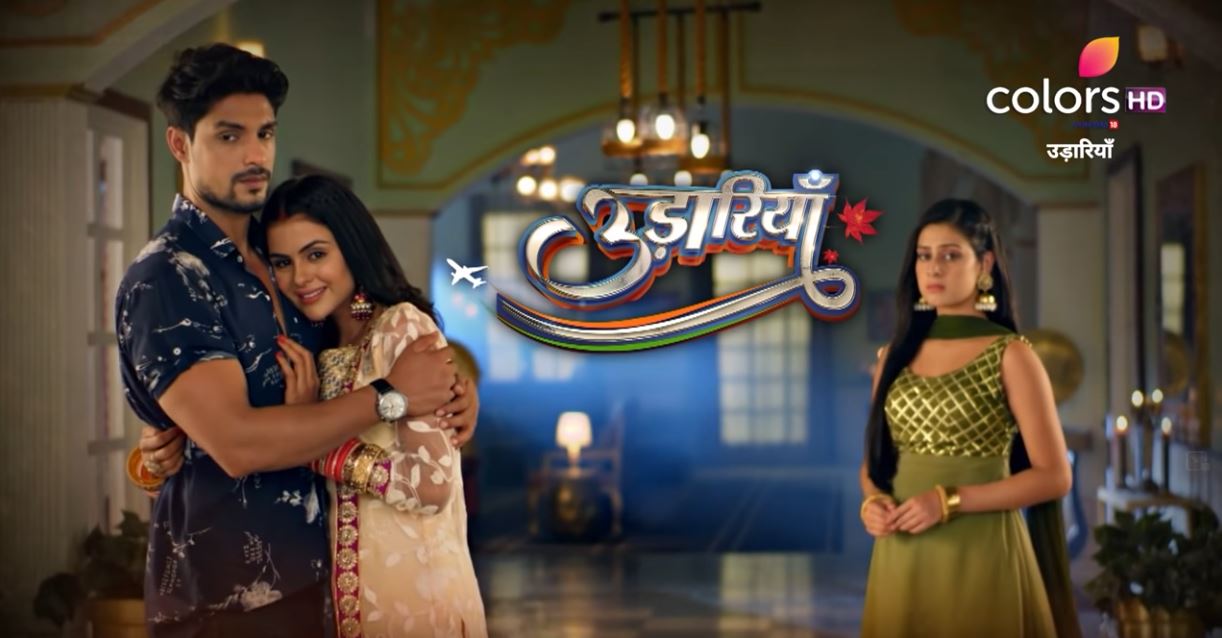 Udaariyaan 31st July 2021 Written Episode, Written Update on TellyUpdates.com
The Episode starts with Jasmin saying don't worry for Gippy, he won't be a bachelor for long. Fateh says you are mad. She says yes, I m mad in your love. Tejo calls Fateh. He answers. She asks where are you, I m waiting for you for lunch. He says I m here only, I m coming. He goes. She calls Sweety and asks her to do her work. Fateh comes to the academy. Tejo asks did you see the presentation, I had mailed you. She shows it. Gippy is waiting for Jasmin. She sees him and hides. Fateh and Tejo are at the academy. Fateh likes the banner. Tejo says the youth follows you, like I m also your fan. He looks at her. She smiles. Sweety greets Gippy and goes to Jasmin. Jasmin takes their pic. Jasmin makes some plan. Simran says I checked about Gippy, he is really a good guy. Tejo says yes, we also met him, he is nice, you have to take care of Jasmin when she comes there. Simran says ofcourse. Fateh goes to attend Jasmin's call. He asks her plan. She says you will know it soon. Tejo asks Simran about her husband. Simran says he stays busy, our family and his relations aren't so good. Tejo asks how is this sunlight coming, its 11 pm there. Simran says its weird here, some light comes around 1am also, someone has come, I will talk later.
Fateh and Tejo come home. He thinks don't know what's Jasmin going to do in her madness. Jasmin gets the juice glasses. Rupy says I think our family terms aren't good. Satti says yes, Gurpreet didn't had sweets on the engagement day. Fateh says its nothing like that, don't worry, you can come home, Tejo has already won hearts. Tejo says yes, I will just come. She goes to help Jasmin in kitchen. Jasmin says I can't do anything without your help. Tejo asks how can I help you. Jasmin says I have to talk to Gippy urgent, can I take him to the room. Tejo asks is everything fine. Jasmin says no, I m going to marry him, talk to mum about this, Mami will raise an objection. Tejo says don't worry, I will talk to Satti. Jasmin says Gippy would have come to get my signs to make passport in tatkal. Gippy greets everyone. Abhiraj asks him to have pakodas, Jasmin made it. Gippy says really, I m impressed. Tejo asks Gippy and Jasmin to go to their room and talk. Gippy says I don't mind. He goes with Jasmin. Mami thinks Jasmin is going to do something again.
Gippy likes the room and says I m excited for the marriage, we will go Paris and then Switzerland. He eats the pakodis. She says I want to talk to you. Fateh gets Jasmin's message, send Tejo to my room after 5mins. He thinks what's going on in her mind. Jasmin says I want to tell you few things. Gippy says you can do anything you want, its your wish. She says no, there is some other matter. Everyone discusses the marriage preparations. Fateh asks Tejo to go and call Jasmin and Gippy. He replies to Jasmin that Tejo is coming to her room. Jasmin says tell me the truth Gippy. She asks about his past relationships. He says its just you and me, we have cleared everything before. She starts shouting and says you are cheating me, its our marriage in some days. She throws the furniture. She asks why did you do this with me. She holds his hand and gets the sauce on her hand.
She slaps herself and falls down. Tejo worries hearing everything. She enters the room. Gippy gets shocked. Tejo holds Jasmin and scolds Gippy for slapping her. He says Tejo ji, I didn't slap her. Jasmin says you are lying. Tejo scolds Gippy. He says Jasmin, tell her, I didn't do anything, move aside. He pushes Tejo. Fateh comes and scolds Gippy. He punches Gippy. Everyone comes and asks what happened. Fateh says Gippy has pushed Tejo. Tejo says he has slapped Jasmin. Gippy says no, she is doing a drama, try to understand. Everyone gets shocked. Jasmin asks how much will you lie. Tejo says when I came upstairs, Jasmin was asking something to Gippy, he slapped her, else… Gippy asks why are you doing this, tell the truth Jasmin. Jasmin cries and says you all want to know the truth, I had gone to meet Gippy, I have seen him hugging Sweety. Gippy asks who is Sweety. Jasmin says you forgot Sweety now, she is my friend. Mami says Jasmin is fooling everyone, its her drama, I know Gippy and his family, he can't do this. Jasmin says fine, I m lying, see this pic. She shows the pic. Everyone sees Gippy and Sweety's pic. Jasmin recalls clicking Gippy and Sweety's pic when Sweety acts in front of him. Sweety hugs him and says sorry, there was something, a cockroach. She goes. Jasmin messages Gippy that she can't come to meet him. Gippy leaves. FB ends. Jasmin signs Gippy.

Precap:
Tejo sees Mami meeting Gippy. She goes to hear them. Jasmin says you are saying as if you didn't know anything. Fateh shouts, I didn't know you will defame Gippy's character and make him fall in everyone's sight. She says I think you don't have the old passion now, I m leaving.
Update Credit to: Amena
The post Udaariyaan 31st July 2021 Written Episode Update: Jasmin frames Gippy appeared first on Telly Updates.