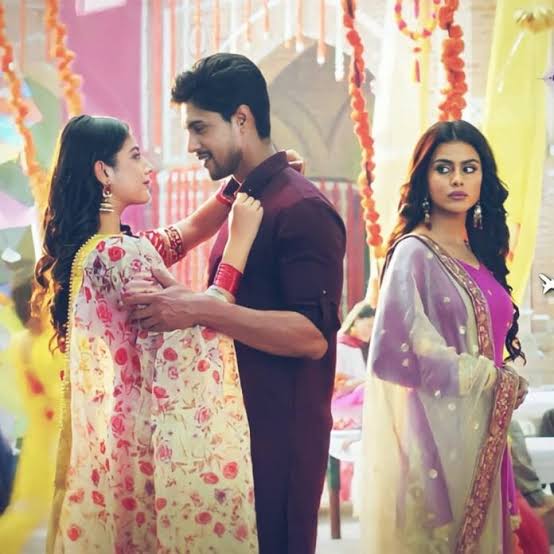 Hi, guys! Like many, I also don't have words to describe my dissatisfaction with the ongoing plot of Udaariyaan. The following is my imagination, and a source to voice my disappointment. Please do read, and enjoy.
---
This is the continuation after today's episode.
"Jasmine! You should be resting! You just have been discharged from the hospital! Where are you going in this state?" Tejo asked Jasmine, as she scooped beside Jasmine, in the taxi seat.
Hearing the interrogations of her sister, Jasmine wanted to scream in her heart.
She thought, 'Damn it! Why does God hate me so much?! First this taxi, now Tejo! Everything had to go wrong right at this moment when I and Fateh had to meet! Think Jassu, think Jassu. You need to tell her something fast, or else she will kill you with her questions!'
But before Jasmine could even say a word, another taxi stopped beside their's and the driver in it asked, "Sasriyakal Bhaiji! Where are you going today?"
"Chandigarh," the driver replied, after which the other taxi driver nodded and then went his own way.
"Chandigarh?" Tejo said as she overheard the conversation between two drivers. "Why are you going to Chandigarh?" she asked Jasmine.
'Oh no!' Jasmine exclaimed in her mind, as she bit her lip in annoyance.
"Hmm?" Tejo hmm-ed as she further pressed Jasmine for an answer.
After a minute, Jasmine hurriedly replied, "I-I, uh, Sweety! Yeah! You know that after I get married to Gippy I will leave for Canada, and probably won't have a chance to spend time with my friends. So that's why I and Sweety wanted to have some fun! Yeah! That is why-"
RING RING
Jasmine's sentence was interrupted by the ringing of her phone. Jasmine lowered her eyes to look at the caller ID, it was Fateh.
"Who is that?" Tejo asked as she heard Jasmine's phone ringing.
"Uhh, its umm, Sweety! I think I am late, so she must be calling. I'll answer the call," Jasmine said.
"Wait! If its sweety, lemme talk to her. How can you both make plans of having fun without me? And that too in Chandigarh?" Tejo pouted as she reached out to take the phone from Jasmine.
"Ma'am the car is ready!"
"O-Oh! Look the car is ready, Tejo! So where I should drop you?" Jasmine asked, as she disconnected the call, and looked at Tejo with her heart almost leaping out of her chest.
"Just drop me near the Virk Mansion," Tejo answered, as she forgot about the call.
The rest of their journey went Tejo talking about how excited she for Jasmine and Gippy's marriage, and Jasmine just faking a smile hoping the time to pass by quickly.
Soon, the taxi driver notified them that they had reached the Virk Mansion.
Tejo said as she got ready to get out of the car, "Then, have fun, both of you. Thanks for the ride. Take care."
Jasmine nodded and the car again took off for Chandigarh.
"Sh*t!" Jasmine cursed in het heart. Its already 3 pm, Fateh must have reached their meeting spot, waiting for her.
After fifteen minutes, and continuously pressuring the driver to drive fast, she reached the destination, and spotted Fateh waiting for her.
"Fateh!" Jasmine cheerfully called out to her 'Jiju' and rushed to him, giving him a tight hug.
Repriocating back, Fateh asked, "Where were you? I was waiting for a long time."
"I-I was stuck in the traffic. That is why I got late. I am sorry. Now, then, shall we go to our date?" Jasmine said, as she tried her best to conceal the fact that she had met Tejo.
Fateh nodded, and they both continued the sin in which they both were equally to be blamed. A sin which can't be forgiven, a sin, which would ruin the hopes and dreams of many, the time it would be revealed.
But both, were unaware of the fact that their lives were going to change today.
"CLICK" the sound of camera flashing was heard from a distance.
"I should tell this to Tejo. Does she has an idea what her husband and her sister are doing behind her back?"
On the other hand, Tejo had just come out of the bathroom, after freshening up. When she came, she heard her phone ringing.
Seeing the caller ID, a smile came upon Tejo's lips, taking the call, she said, "Hi, Naina, How are you?"
From the other side of the phone, a voice came, "I am good, Tejo. But I think there is something you should know."
"What?" Tejo asked expecting to hear some good news from her colleague from her workplace.
"Please don't be too shocked," Naina said, with a hint of discomfort in her tone, which Tejo didn't take much time to catch.
"What happened? Is everything alright?" Tejo asked, sensing the uncertainty in Naina's voice.
"I am sending you a pic, that I clicked just now. Keep calm, and see it," Naina said.
"Ok, but will you tell me, what is it about?" Tejo asked once again, but the call was long disconnected.
Confused Tejo, before she could think of something else, she received a message from Naina.
Opening it, she couldn't believe her eyes. The smile on her lips faded, and her face became pale. It was the moment, when she heard something shattering…..
Her heart……
The post Udaariyaan FF Part 1- The sin which can't be forgiven appeared first on Telly Updates.