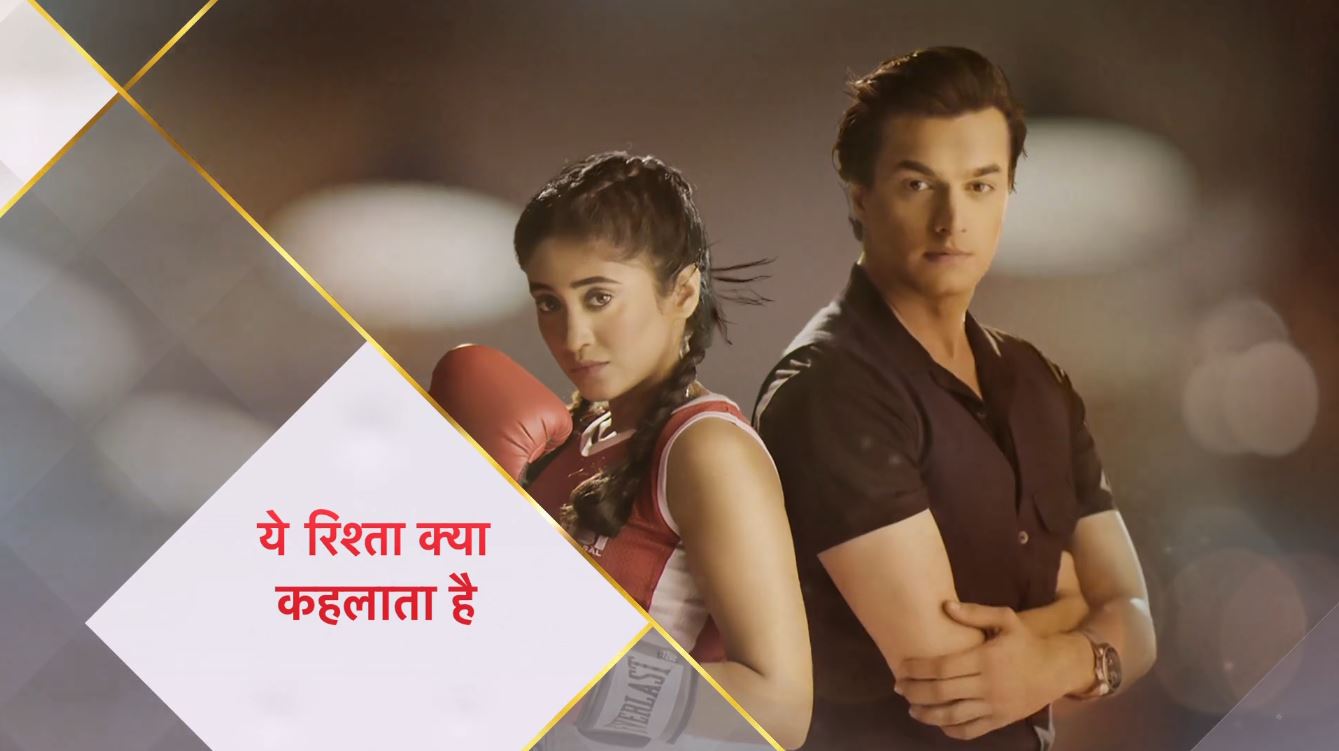 Yeh Rishta Kya Kehlata Hai 27th July 2021 Written Episode, Written Update on TellyUpdates.com
The Episode starts with Kartik asking will you believe anything Chauhan says, he is a fraud man. Inspector says don't interfere in our work, else we have to arrest you also. Manish stops Kartik. Sirat gets arrested. Kartik says please let me talk to her for a min. He asks Sirat not to get afraid and just trust him, he won't break the promise to Ranvir. Sirat says no, you don't get into this, keep your family away, its my fight, you just take care of my Maudi. He says I m here, I won't let anything happen to you. Inspector says one min is over. Sirat's dupatta gets stuck in his watch. Inspector frees it and takes Sirat to the van.
The reporters ask why did you kill your husband, why did you poison him. Manish stops Kartik and says there is much media. Sirat gets on news. Kartik says they are asking wrong questions to her. Manish says choose, if family is imp or Sirat. Kartik says she is my friend. Manish says you are my son, I won't let you go. Chauhan sees the news. Kartik runs to Sirat. She signs no. He stops. He thinks sorry Sirat, I couldn't do anything for you. The reporter says Ranvir was poisoned since 3 months and he died. Kartik says Sirat suffered, and we didn't help. He goes. Manish says I m your dad, I will always worry for you and protect you.
Chauhan says media trusts me now, court and people will also believe me, then Sirat won't have a place to run away. Sirat reaches the police station. The media asks again. A girl hits her and says we don't want to become like Sirat. Manish asks the guards to shut the gate. Dadi and Nani worry. Sirat is put inside the jail. TV Reporter comes and asks why did you murder Ranvir, because of the affair with Kartik, any way, law will make you admit the crime. Inspector says you can't talk to her, come. Sirat thinks sorry Kartik, you are troubled because of me.
Manish says I was trying to save the family from this. Dadi says everything will be fine. Manish says Kartik isn't able to think of Sirat getting problems for us. Nani says no, she is in problem. She feels unwell. Everyone cares for her. Kartik asks Nani to open her eyes. Manish asks Akhilesh to call a doctor. Kartik asks how can you be selfish for your son and family, why can't we support Sirat. Manish says I know Chauhan is cheap, I have to protect this family and respect.
Kartik says I also have a responsibility towards family and Sirat. Manish says you can't handle both the responsibility, kids will get involved also, kids don't ask us, they take the matter on their hearts. He goes. The cell mates joke on Sirat and insult her. Constable sees this and turns away. Sirat cries. Kartik is with Nani. Kairav comes and asks are you okay, don't worry, everything will be fine.
Kairav says I know Sirat is blamed for Ranvir's death, but he was ill, don't worry. Kartik says I hope that everything gets fine, Kairav says you are a superhero, you will fix everything, she is your friend, don't think much and just do it. Kartik hugs him. Manish says Kartik is very emotional, I will protect him. Akhilesh says police arrested Sirat from our house, its bad. Sirat says we should support Kartik. Manish says we are losing our investors, Raj scolded Akhilesh on call. Surekha says its happening because of Sirat. Manish asks why isn't Kartik understanding this.
Suwarna says one side is family, other side is friendship, humanity, for us Kartik is most imp. Akhilesh says we have to find a way to bring him out of this. Lawyer says there is one way, Kartik has to tell the media that he is dragged into the matter for no reason, he shouldn't keep terms with Sirat. Akhilesh says yes, he is right. Manish asks who will prepare him to give this statement. Suwarna says Dadi will talk to Kartik. Dadi goes to talk to Kartik. He says I couldn't help Kartik, when we needed her, we got her from Jailsalmer, when she needs us, then we have closed the doors, we were strangers for her when we needed her help, even then she helped Kairav, now we have a relation with her, what did we do, we chose our family, we broke the relation.
Dadi says no, we took a decision, I understand it will be tough to choose between family and friendship, so I got a way, you have to go in front of media and give a statement. Kartik asks why didn't Manish come if he suggested this. Dadi asks would you agree if he said, you have to tell the media that you have no relation with Sirat, you don't know anything about Ranvir's death. Kartik asks what. She says you have to say this for family. He asks what about Sirat. She says you have to do this. Chauhan asks lawyer to make him meet the reporter Aradhna. Lawyer says we have to pay money to get media in our favor. Aradhna comes there to meet him.
She says you permit me to enter your house and family, I want my audience to enjoy your son and bahu's story. Chauhan says you know Ranvir has died, just defame Sirat, take money, you don't enter my house. She says I don't want your money, I hate girls who cheat, I want to expose Sirat, okay. He says fine, what will you get in my house. Aradhna says you also be ready to get involved in this. Sirat thinks of Ranvir. She cries.
Precap:
Kartik says I decided to talk to the media. He talks to Aradhna. Sirat sees his interview. Aradhna says maybe you saw your wife in Sirat and fell in love with her.

Update Credit to: Amena
The post Yeh Rishta Kya Kehlata Hai 27th July 2021 Written Episode Update: Sirat gets arrested appeared first on Telly Updates.