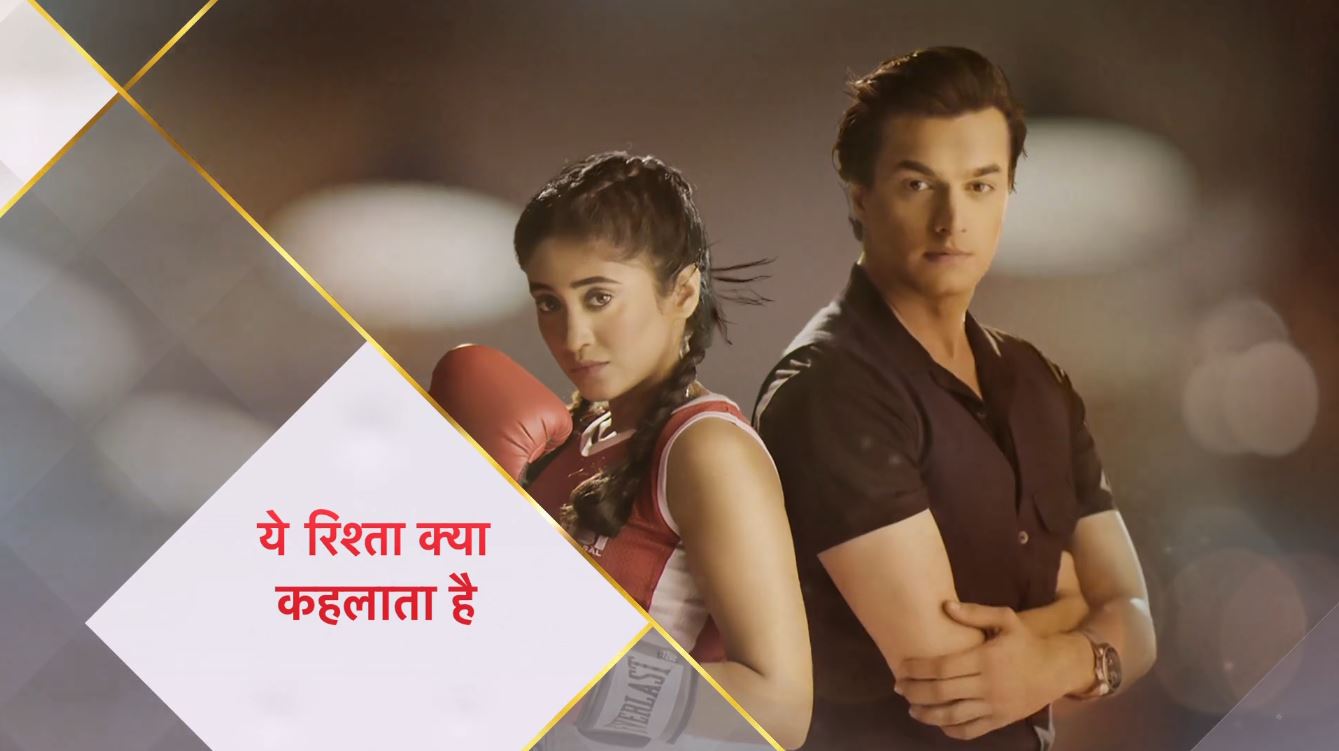 Yeh Rishta Kya Kehlata Hai 29th July 2021 Written Episode, Written Update on TellyUpdates.com
The Episode starts with Chauhan giving Ranvir's phone to Aradhna. He says this has a recording in Sirat's voice, it can help you in framing Kartik and Sirat. She asks do I have to involve Kartik also. Kartik calls her and says I accept the offer. She says I want an exclusive interview. He says sure. She thinks I will play Sirat's recording in the interview. He sees the family pic. She says I will take this phone with me to hear the recording. The family talks to Dadi. Dadi says Kartik will think of everyone's betterment, I trust him. Kartik comes and says I have decided, I will talk to the media, interview will be live. Manish asks what will you say. Akhilesh says lawyer will say. Kartik says no need, my truth is with me. Akhilesh says we have to prove that you didn't kill Ranvir. Manish asks why are you doing this, answer us. Aradhna comes and says whatever he will say now, he will say in front of the camera. She introduces herself. Manish says you didn't inform us and called her. Kartik says sorry.
Sirat shivers in the cell. Aradhna says no one ever refused to me, its the power of the media. Kartik says no, its the power of the truth, my truth is with me, I don't need to get scared. She says let me decide if your truth is true or a lie. He says some people like you to manipulate the truth, I want this interview to be live, if you don't mind. She says I like it, give me hint what you will say, I will frame my questions. He asks did you get scared, I will not counter question you, you will just get the right answers from me. He sees Ranvir's phone. He thinks how did she get Ranvir's phone. Manish says Aradhna is smart, she will manipulate Kartik, he has to be careful. Aradhna goes live on the show. Kartik drinks water and spills it on Ranvir's phone. He says sorry, is it a loss for you, this phone got off. Aradhna thinks how will I play that audio, I thought final word will be mine, but he changed the game.
Kartik thinks its good Ranvir's phone got damaged. Constable says Sirat is suffering from fever. Sirat hears constables talking about Aradhna's live show with Kartik Goenka. The news plays. Sirat, Ranvir's family and everyone watch the live news show. Aradhna says we are here to discuss Ranvir's case. She asks Kartik are you Sirat or Ranvir's friend. Kartik says I m friend of both of them, I know Sirat closely, like in sincere relations, I got to know her because of Kairav, Sirat's face matches with my wife Naira. Aradhna says it means you fell in love with her looks and then her, so you got her home. Kartik says no, like I told you before, Sirat's relation was with my son, she came home, everyone knew that she isn't Naira, both are different personalities, we liked her for her sincerity, not because of her face. She says maybe you saw your wife in her and fell in love with her. Sirat cries.
Kartik says no way, she is just a good friend, I feel wrong when she is compared to my wife, my wife is no more, I hope you will respect it, Sirat is my friend, only friend. She says interesting, does she regard you a friend, is she framing you in this murder case. Kartik says its not a murder case, Ranvir passed away because of his illness, he was my best friend, I m very upset that he left, Sirat isn't wrong to frame anyone. She asks are you sure. He says yes. Sirat cries seeing him on the tv. He asks Aradhna to meet Sirat once, she is true, sincere and simple, there is nothing wrong, she didn't do any wrong with anyone, she never did any foul in a game, she is a state champion, can she make a foul in life, you were saying about the power of the media, its true, it has become easy to ruin anyone's life, just tell lies and involve someone's name in a false case, make things viral on social media, its done.
She says you mean its a lie on social media. He says I didn't say that, you got this meaning, I just wanted to say, that give a chance to the court to decide. Sirat says thanks Kartik. Kartik says Sirat and Ranvir loved each other since childhood, they were separated for two years. Aradhna asks when did she start giving him poison, before marriage or after marriage, tell me, you are her close friend, you would know. Manish says be careful and answer. Kartik asks what's the proof, did you talk to the doctor, or see Sirat adding the poison, did you buy the poison and give it to her, sorry, you felt bad that your name is dragged into this, Sirat didn't give the poison, Ranvir died because of lead poisoning, check the reports well, tell me, Sirat didn't feed him the bullet.
Aradhna says its not written in medical reports. Kartik says talk to his doctor, we will accept what the court decides, you weren't there, how can you say that Sirat poisoned him, maybe some other family member gave him the poison, I told you, media has to be smart and also responsible, you are the eyes of the people, also thinking, people believe you, don't declare anyone the culprit before the crime is proved, mind you, I will file a case on you, when Sirat is proved innocent, I will file a defamation case on you for ruining our image. Aradhna says we will see, were you there with Sirat in her room when Ranvir died. Sirat gets angry and says I would have given you a punch, you are troubling Kartik with wrong questions. Aradhna says I will repeat my question, were you present in Sirat's room when Ranvir died. Kartik recalls. He says even if I was there, then what will be proved. She says leave it on the court, just tell us, were you there or not. Manish says don't say anything that she manipulates. She says tell us, were you there or not. Kartik says yes, I was there in Ranvir and Sirat's room. Everyone worries. Chauhan gets angry.
Precap:
Sirat misses Nani and cries. Nani says I want to see Sirat once before I leave. Kartik says nothing will happen to you. She asks will you take care of Sirat if anything happens. She holds his hand. She dies. He gets shocked.

Update Credit to: Amena
The post Yeh Rishta Kya Kehlata Hai 29th July 2021 Written Episode Update: Kartik gives a live interview appeared first on Telly Updates.