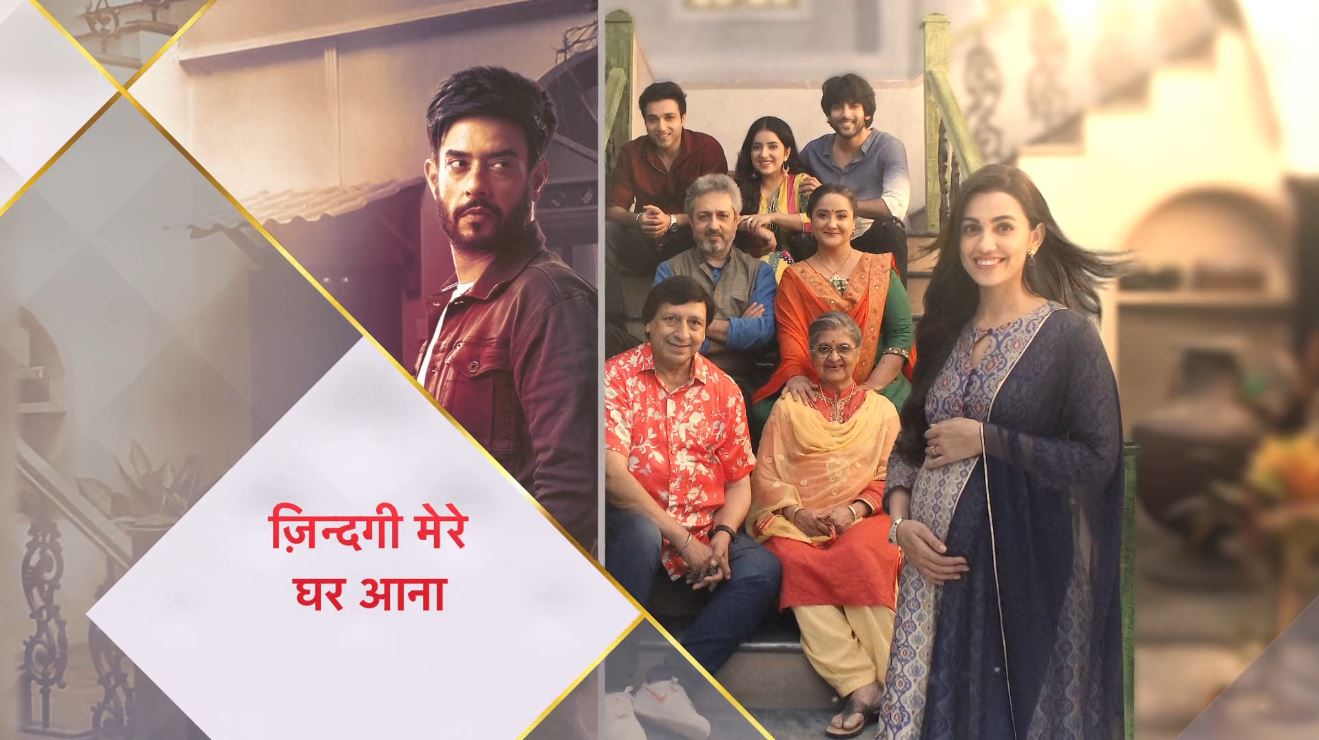 Zindagi Mere Ghar Aana 27th July 2021 Written Episode, Written Update on TellyUpdates.com
The Episode starts Karan saying I have come, stop there, I have sanitized myself, we will talk from far, cover your mouth. The family asks him to show his face. Karan removes the mask. Kabir says we can hug him. Angad says no. Nimmo says he is a doctor, he is treating people in pandemic, let us talk. Guneet says cases are getting high. Karan says its infectious disease, we have to be careful, take all precautions. Dadi says you get food there right. Karan says yes, I came here to meet you all, you are talking of corona. Dada says I have made a video to alert people of corona in filmi style. Guneet says let me talk to my son for some time. Dada says they are making me do all the household work. Karan says I was missing all this, so I couldn't stop myself. Soni says we miss you a lot. Kabir says yes, you are the real son, we are here on rent. Guneet asks will you have anything. Karan says no. Amrita says at least have tea, I will make it. He nods. Kabir says oho, romance. Amrita goes.
Angad says Kabir is washing utensils well. Nimmo says he broke few plates. Guneet says you are still standing, sit on the stool, we kept this for you. Karan sits and says Angad sanitize this later. The neighbor comes and argues with Karan. Karan says I won't have the tea. Amrita gets sad. Kabir gives the tea to Karan. He asks Rastogi to not trouble them. Karan likes the tea. Amrita smiles. Dadi says we will go inside, and let them talk. Karan and Amrita have a sweet talk, and laugh. He says take care of Dada and Dadi, and yourself also. Soni cries for Karan. Kabir says let them talk. She says Karan will leave now. Everyone gets sad. Amrita says you stay between corona patients all day, I get worried for you. Karan jokes and smiles. He says I missed this tea, and you also. Rastogi asks Karan how much time will be pass here, just go. Karan says I m leaving. He keeps the tea cup. He says I shall go now. Amrita calls everyone and says Karan is leaving. Everyone comes to bid him bye. Karan says don't get sad, smile, you forgot to sing our family song. He sings chalo nikaale dil se apne…
They all sing. Karan consoles Soni. He says we shall meet soon. Amrita nods. Karan leaves in the ambulance. FB ends. Amrita cries. Nimmo comes and hugs her. Everyone is sad at home. Nimmo says I have made Amrita cry. She talks to Guneet. Soni says Karan called and said he is coming home, he was going to come after 2 months, we were so happy, we got that call from the hospital, we lost him, I miss him a lot, don't you miss him. Angad says I miss him even more, he used to give me pocket money weekly, he used to look dad in that moment. She hugs him. Angad gets Dolly's call. Dada and Dadi are also sad and miss Karan. Amrita comes to Angad. He says we had discussed a lot to select the wedding card, then Karan got this card, everyone liked it, he planned a lot for my wedding, he planned the shopping also. He cries. Amrita consoles him. She says our world can still be beautiful, we should call life again, you and Meera should get married. He says not now. She asks what's the matter. She says Meera is sweet. She says we will meet her tomorrow at Dolly's wedding. He says yes. Meera is seen calling out Apa. Apa offers prayers in her room. Meera smiles seeing her.

Precap:
Dolly says I didn't call Kabir, he has come and asked me to elope. Chadda pushes out Kabir. Nimmo shouts on Rastogi. He apologizes to her. She says I don't want an apology, I want my son.
Update Credit to: Amena
The post Zindagi Mere Ghar Aana 27th July 2021 Written Episode Update: Amrita recalls Karan's last memories appeared first on Telly Updates.